Mold Remediation in Phoenix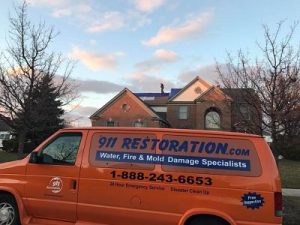 If you need mold remediation in Phoenix, 911 Restoration is your best bet for full-service mold inspection and cleanup.
Whether you have mold due to water damage or can smell an unexplained infestation within your walls, our mold removal experts can help. Every technician holds IICRC certification. They are trained to handle total mold remediation, from the initial mold inspection to damage repairs and future growth prevention.
You may be tempted to put off mold removal, especially if your infestation is out of sight and out of mind. But the longer you allow mold to live and spread throughout your property, the greater your damages will be in the long term. Let our expert mold remediation crew take a look at your infestation. If you're worried about mold inspection costs, don't be. 911 Restoration of Phoenix offers a free visual mold inspection for property owners. That way, you learn what you're dealing with before committing to the cost of mold removal.
911 Restoration also works with you to keep your mold remediation costs to a minimum. Our technicians emphasize your peace of mind above all else. They know that a mold infestation can mean major stress for you. Mold eats away at your walls and flooring, contaminates the air you breathe, and can sometimes be embarrassingly conspicuous.
Your mold cleanup crew comes to your property with the goal of eliminating all these stresses so your home or business feels like your own again. Don't avoid mold decontamination a moment longer. With 911 Restoration of Phoenix, the solution is closer and more affordable than you think. Call today.
Expert Mold Inspection In Phoenix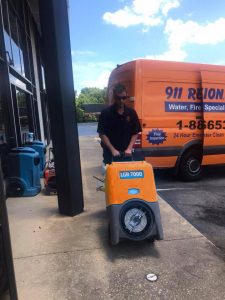 In order to truly reclaim your home or business after a mold infestation, you need the expert eye of certified mold remediation professionals.
Mold spores travel throughout your property through air vents and on clothing and pets. If there's growth in one area, there may be other colonies elsewhere. A thorough and attentive mold inspection is needed to truly ensure that any mold removal effort is effective in the long term.
The mold decontamination workers at 911 Restoration conduct a thorough mold inspection to make sure every colony is accounted for. As water damage restoration experts, they also know exactly where to look for mold for after a water damage incident. If mold inspection leads to a discovery of growth, they take extra efforts to accurately identify the type of mold in your property. Clear identification is crucial to designing a safe and effective mold removal strategy. The mold cleanup technicians sample the mold and deliver it to a third-party laboratory so you can trust that the information you receive about your infestation is unbiased and scientific.
While the specifics vary according to your unique situation, mold decontamination typically includes removal of the growth using professional tools and strategies to prevent spreading spores and mycotoxins. The mold removal crew also takes steps to dry out the structure where mold was discovered. This is essential for discouraging future growth so you won't have to deal with mold remediation all over again.
Sometimes mold eats away at materials such as wood, glue, and paper. If any of the surfaces in your home or business have been ruined or weakened by the infestation, the mold cleanup crew repairs those structures.
911 Restoration of Phoenix prioritizes full-service mold cleanup, because we want more for you than a mold-free property. We want to make your home or business stronger-than-ever and as mold-resistant as possible. The mold remediation techs are focused on giving you a Fresh Start.
If this is what you're looking for, call now.
Your Certified Toxic Mold Removal Company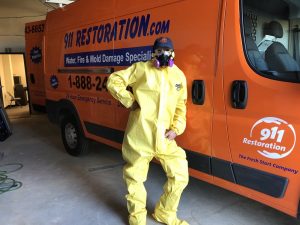 Some varieties of mold, such as black mold, can be highly toxic and hazardous to your health. The side effects of living with a mold infestation may include heightened allergies, dizziness, headaches, respiratory difficulties, and heart problems. Even if you're willing to risk structural damage as you put off mold remediation, you probably don't want to increase those dangers to your health.
The potentially toxic qualities of mold are another reason why you should choose a certified mold removal company rather than tackling mold cleanup yourself. Household cleaners are not formulated for mold decontamination. But more importantly, close contact with a mold colony increases your likelihood of inhaling dangerous mycotoxins.
If you need mold removal in Phoenix, choose a certified specialist like 911 Restoration. Our compassionate mold cleanup technicians are careful to remove mold in a manner that protects the health of your property as well as the humans within it.
Don't wait on mold remediation, and don't hand the responsibility over to a company that sees your mold infestation as just another job. Call 911 Restoration of Phoenix for compassionate service and lasting mold removal.
Serving the communities of Anthem, Ahwatukee, Buckeye, Burnstead, Casa Grande, El Mirage, Glendale, Goodyear, Laveen, Maricopa, Maricopa County, New River, Paradise Valley, Phoenix, Peoria, Scottsdale, Sun City West, Surprise, Waddell, Youngtown and surrounding areas.