Water Damage And Mold Removal in Glendale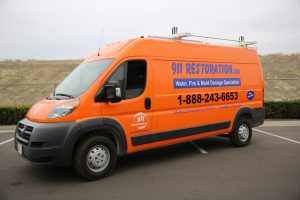 Water can be a surprisingly destructive force, even in the form of a seemingly innocuous wall leak. Any type of water damage, be it a pipe burst, sewage backup, or house flood, has the power to cause serious problems for the structures of your property. The most reliable way to minimize that damage is to immediately call an emergency water damage restoration company.
911 Restoration of Phoenix is your best option for urgent water damage restoration in Glendale. With a 45-minute guaranteed arrival time, these flood cleanup workers can promise speedy water damage repair. Even better, you can reach our water damage restoration crew literally any time of the day or night, any day of the year. They know you can't control when disaster strikes, so they make themselves available anytime.
These technicians are trained in full-service to provide water damage restoration and mold remediation in Glendale. They have been IICRC certified to ensure they're capable of providing the highest quality service possible. Your dedicated flood cleanup professionals oversee every aspect of water damage restoration. This includes structural and surface repairs, drying and dehumidifying, and mold inspection and remediation.
911 Restoration especially emphasizes the importance of mold decontamination after every property flood or water leak. A colony can spread quickly with even the slightest amount of moisture. Thorough mold removal can mean the difference between costly damages down the line and water damage incident that's fully resolved today.
No matter what your needs are—from emergency carpet water removal to mold remediation—consider 911 Restoration of Phoenix your ally. Call now for fast, professional water damage restoration.
Speedy Water Damage Repair In Glendale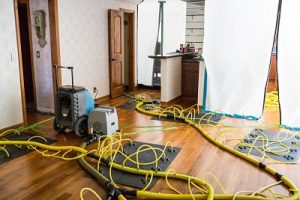 When flood cleanup professionals arrive at your home or business, they offer a free visual inspection for property owners. This gives you a clear understanding of your damages and allows the water damage experts in Glendale to lay out a strategy for efficient flood repair. They work urgently to repair the source of the problem and extract the water. After all, the longer water remains on your property, the greater your risk of rotted floorboards or contaminated carpet. Their goal is to minimize those damages with speedy flood cleanup.
Once all water has been extracted and the area has been completely dried, the water damage restoration crew moves on to property restoration. This means they address all the damage that has been done to your home or business. If you need carpet replaced, drywall repaired, or your roof fixed, the water damage restoration staff is on it.
They also conduct a mold inspection to see if your incident has resulted in an infestation. These experts have extensive experience with mold remediation in Glendale, and they know where to look to uncover every trace of hazardous growth. Thanks to their training, they know how to handle mold removal with true expertise, careful not to spread spores and risk new infestations.
The mold decontamination specialists at 911 Restoration place so much emphasis on mold removal because a colony can wreak more havoc than most property owners realize. Without immediate mold remediation, a colony can destroy your walls, floorboards, and ceiling. And that's to say nothing of the risks to your health.
If you choose 911 Restoration of Phoenix for your water damage restoration and mold remediation needs, you can trust that our flood cleanup crew will leave your property feeling better than new. Call today for a Fresh Start.
How Much Will I Get Paid For Water Damage From Insurance?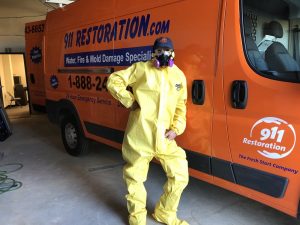 How much does mold inspection cost? Does your insurance cover emergency sewage extraction? What about roof repair?
When you need water damage restoration, water damage repair, and water damage service in Glendale, you may find yourself drowning in questions about the expense. Because the process of flood cleanup can be so complicated and varied, it's not always easy to understand which services your insurance will cover. Our friendly water damage restoration experts are here to help you make sense of your insurance coverage. They offer a free insurance consultation and even help with the paperwork to ensure you get all the benefits to which you are entitled.
When you work with 911 Restoration of Phoenix, we make sure you know what to expect, from the process of flood repair to the cost of mold removal. Clear communication, expert service, and emergency response: These are the qualities we champion in order to bring you total peace of mind.
If you need flood cleanup or a mold inspection in Glendale, let 911 Restoration of Phoenix be your first and only choice. Contact us now.
Servicing the cities of Anthem, Ahwatukee, Buckeye, Burnstead, Carefree, El Mirage, Fountain Hills, Glendale, Goodyear, Laveen, Litchfield Park, New River, Paradise Valley, Phoenix, Peoria, Scottsdale, South Mountain, Sun City West, Surprise, Waddell, Youngtown, and surrounding areas.