Mold Removal in Phoenix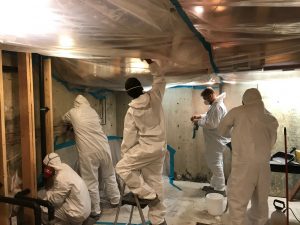 Mold can damage the structure of your property as well as your possessions if it is allowed to spread. It can even affect your health by causing severe respiratory issues as you inhale spores. Fortunately, you can get fast mold removal service in Phoenix, Glendale, or Scottsdale if you discover mold in your home or business.
911 Restoration of Phoenix can offer you same-day mold removal in Phoenix. Our mold remediation technicians are licensed, bonded, and insured to:
Complete a Free Visual Mold Inspection for Property Owners Only

Use Professional-Grade Cleaners for Mold Decontamination

Handle Commercial and Residential Mold Cleanup and Odor Removal
Along with a mold inspection, technicians can also send a sample of the mold in your property to a 3rd party laboratory for testing. This allows us to determine the best options for handling mold remediation, mold decontamination, and mold damage restoration in Phoenix in your home or business.
You can count on the mold experts at 911 Restoration of Sunrise to work tirelessly to rid your home or business of mold. We understand how important it is to address mold cleanup in Phoenix quickly, to reduce the risk to your health and the damage to your property. Let us handle mold damage starting today, so you can quickly get your property back to normal condition.
Mold restoration can ensure your home or business is returned to better-than-new condition in Phoenix, Scottsdale, or Glendale. Call the pros at 911 Restoration of Phoenix today to get back your peace of mind. The Phoenix office is open 24/7/365 at 480-524-1678
Options for Mold Remediation in Phoenix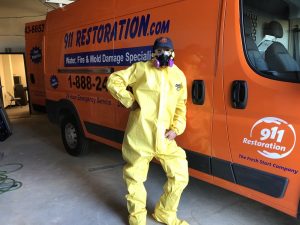 Mold grows quickly in damp, dark environments. It can thrive under your floorboards and behind your walls, where it may pass unnoticed for a significant amount of time. Many times, property owners only realize they have a mold infestation after noticing a strange smell or spotting discoloration on walls or floors.
Our mold remediation specialist in Phoenix provides you a mold inspection if you suspect you have a mold problem. Mold cleanup technicians can use infrared scanners to search for spots of moisture that can indicate hidden mold growth. Our mold removal crews are IICRC certified and ready to:
Find All Areas of Your Property Affected by Mold

Isolate Mold to Stop It from Continuing to Spread

Use Air Filters to Remove Mold Spores

Disinfect All Items Subjected to Mold Growth

Thoroughly Clean Your Home or Business
Mold decontamination in Phoenix can even take care of odor removal after you experience a mold infestation. The mold specialists at 911 Restoration of Phoenix can also address the underlying cause of your mold infestation.
Mold typically develops after you experience some form of water damage. Leaking pipes, a flood, or a toilet overflow may allow mold to spread into your property. 911 Restoration of Phoenix is a full-service property restoration company that can repair water damage. Taking care of water extraction and dehumidification quickly can reduce the odds that you will experience a mold infestation.
Get back your peace of mind after a water damage emergency or a mold infestation by contacting water damage restoration Phoenix 480-524-1678 today.
Get Started with a Mold Inspection Today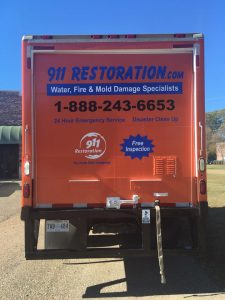 You can find out for sure if you have a mold problem with a visual mold assessment or a mold air inspection. If you discover that you are dealing with a mold infestation, the professionals at 911 Restoration of Phoenix can begin mold cleanup right away.
We offer our clients same-day services and we can arrive at properties in Phoenix, Glendale, and Scottsdale within 45 minutes of an emergency call. You can contact us at any time throughout the day or night, as crews man the phones 24/7/365.
Getting mold removal started right away can limit the total damage done to your property. Let us put our years of experience and training to work for you by:
Handling Mold Remediation after a Flood or Pipe Burst

Focusing on Mold Decontamination for Your Possessions and Property

Removing All Items Infested with Mold
Mold specialists can pack out and store your undamaged possessions to protect them from the mold infestation. Once mold remediation in Phoenix is completed, our crews can perform another mold inspection to make that the cleaning process was successful, allowing you to get back your peace of mind. Call us at 480-524-1678 and please allow us to offer you a free mold inspection Phoenix.
Mold removal can return your property to the perfect condition that you deserve. You can count on us to treat your mold damage seriously. Technicians will work aggressively to destroy mold and clean up the damage left behind by this spreading fungus. Get the professional help you need in the mold remediation business in Phoenix, Glendale, or Scottsdale by contacting us at 480-524-1678 now.