Water Damage And Mold Removal in Sunrise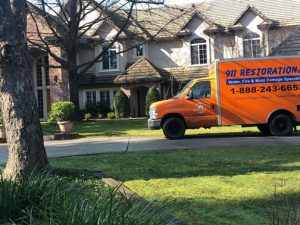 You don't expect water damage to be an issue in a place called "Sunrise." Nevertheless, 911 Restoration of Phoenix has handled a lot of water damage restoration in Sunrise. So, if you're currently reeling from a pipe burst or storm damage, know you're not alone.
The experienced flood cleanup technicians at 911 Restoration of Phoenix recognize every water damage situation for the emergency it is. That's why friendly water damage restoration staff is available to you 24/7/365. It doesn't matter when your pipe burst, washer machine flood, or sprinkler malfunction hits. You can always count on the flood cleanup crew to be on your property and ready to work within 45 minutes of your call. That's a guarantee.
911 Restoration of Phoenix is licensed, insured, and bonded for commercial and residential water damage restoration and mold remediation. Every worker is IICRC certified and truly knows everything there is to know about flood cleanup, water damage repair, mold inspection, and mold decontamination. They also care deeply about the well being of their neighbors and work hard to provide comprehensive water damage restoration and mold remediation in Sunrise.
This staff even has you covered with a free insurance consultation. When your beloved property is filling with water, it can be hard to concentrate on the complicated details of your insurance coverage. At 911 Restoration, a caring water damage restoration expert sits down with you to explain your coverage. They help with loss itemization, filing a claim, and even bill your provider directly.
We know your mind is reeling, so we work hard to bring you peace, calm, and affordable solutions. Call 911 Restoration of Phoenix today and put water damage firmly in your past.
Emergency Flood Cleanup In Sunrise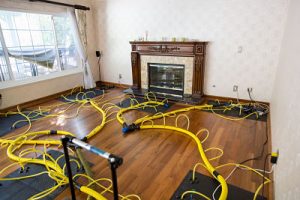 The flood cleanup crew at 911 Restoration know one thing for certain:
If this was their pipe burst, their sewage backup, or their property flood, they'd want urgent service from a capable water cleanup company.
They keep that kind of empathy at the forefront of their minds when responding to your water damage emergency. They are relentless in sticking to their 45-minute arrival time guarantee. And once they're on your property, you'll see them work fast to board up your home in a storm, find the leak in the roof of your store, extract the sewage in your basement, or pack out your unharmed belongings to keep them safe.
Water damage can take many forms, from rotted drywall to roof damage. The water damage restoration crew is skilled in all forms of repair. It doesn't matter if you need new floorboards, leak repair, or carpet mold removal. 911 Restoration has it all under control.
The crew works according to 911 Restoration's Fresh Start philosophy. They believe that every disaster—from pipe bursts to a crumbling roof—is an opportunity to start again, better than before. They approach your property with the goal of truly restoring your home or business to better-than-ever condition. This means eliminated the problem, repairing the damage, and protecting against future disaster with a mold inspection and mold remediation.
For the comprehensive service and Fresh Start you deserve, call 911 Restoration of Phoenix.
Removing Mold Due To Water Damage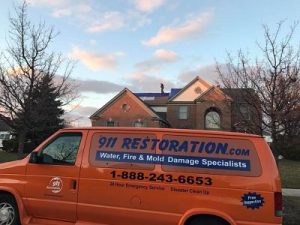 In the wake of water damage restoration, it's important not to overlook mold remediation. While a water damage incident isn't guaranteed to result in an infestation, it frequently does.
The flood cleanup staff at 911 Restoration are also certified and trained in mold inspection and mold removal. This is to ensure that your water damage restoration service is truly comprehensive. After every structure has been dried and repaired, the specialists conduct a complete mold inspection, searching the dark corners of your property for a hidden colony.
Mold remediation is essential for a couple reasons. First, mold in your home or business can lead to significant damages the longer it lingers. Mold actually eats away at organic materials like wood and paper, weakening and disfiguring the structures of your property. Second, mold releases unwanted organisms into the air you breathe. The risks to your health can be irritating—such as heightened allergies. However, without prompt mold removal, more toxic varieties such as black mold can lead to serious respiratory and heart problems.
Water damage restoration technicians include mold remediation in the flood cleanup process for your own safety. If you didn't have a mold inspection after your last water damage incident, contact 911 Restoration. We offer a free visual mold inspection for property owners.
The technicians at 911 Restoration of Phoenix care about your wellness, as well as the health of your property. Whether you need flood cleanup or mold decontamination, call the company who sees you first and foremost as a neighbor. Call 911 Restoration of Phoenix today.
Servicing the cities of Anthem, Ahwatukee, Buckeye, Burnstead, Carefree, El Mirage, Fountain Hills, Glendale, Goodyear, Laveen, Litchfield Park, New River, Paradise Valley, Phoenix, Peoria, Scottsdale, South Mountain, Sun City West, Surprise, Waddell, Youngtown, and surrounding areas.