Fire Damage Restoration in Phoenix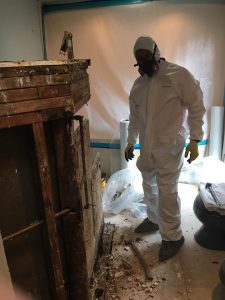 Fire damage restoration in Phoenix, Glendale, and Scottsdale can be a stressful experience. You can take some of the stress out of your life and get back your peace of mind by contacting fire damage restoration professionals as quickly as possible after the flames are extinguished.
Here at 911 Restoration Sunrise, we know how important it is to begin restoration work quickly after a fire. That's why our fire and smoke restoration crews are on call 24/7/365 at 480-524-1678, We provide service for fire restoration in Phoenix. You can count on fire and smoke damage techs to arrive at your property in Phoenix, Scottsdale, or Glendale within 45 minutes of an emergency call.
Fire damage restoration and smoke damage restoration in Phoenix can be complicated. Let us make fire cleanup simple by:
Completing a Free Fire Damage Assessment
Offering You a Free Insurance Consultation
Handling Soot, Ash, and Smoke Removal
Repairing Structural Damage Caused by the Fire
Using Sodablasting to Take Care of Fire Cleanup
Removing Odors Associated with Soot and Smoke
Fire remediation and smoke damage in Phoenix, Glendale, and Scottsdale can leave lasting marks on homes and businesses. Fortunately, you can undo the effects of a fire by contacting the smoke removal pros at 911 Restoration of Phoenix. Let us bring your property back to better-than-new condition with fire and smoke restoration services.
Our crews are licensed, bonded, and insured to handle fire and smoke damage the right way. Let us take care of the damage caused by large fires or puffback cleanup if your furnace misfires in the winter.
Handle All Aspects of Fire Cleanup in Phoenix
Fire cleanup in Phoenix can be a complex process. Fire damage restoration may require:
Emergency Boarding Up and Roof Repairs
Packing Out and Storage of Your Undamaged Possessions
Ash, Soot, Odor, and Smoke Removal
Your property may need completely renovated and restored after a major fire. The fire cleanup crews at 911 Restoration of Phoenix are IICRC certified to handle fire and smoke restoration. You can count on us to:
Inspect Your Property for Structural Damage
Handle Water Extraction from Fire Hoses
Use Advanced Fire Cleanup Techniques
Our technicians are also trained to handle puffback cleanup if you experience soot and smoke damage after your furnace backfires. Generally, property owners in the Phoenix, Glendale, and Scottsdale area do not have to run their furnaces very much throughout the year. However, even the brief use of a malfunctioning furnace can lead to puffback damage.
Puffback cleanup in Phoenix can take care of unsightly soot marks on your walls, ceilings, and possessions. It can also remove the smell of smoke that can become a serious problem for property owners in Phoenix, Glendale, and Scottsdale.
Get the professional help you need to recover from any kind of fire damage by calling 911 Restoration of Phoenix today. No job is too big or too small for our crews. Contact us now and you can get a Fresh Start after experiencing fire or smoke damage. Call Disaster cleanup company in Phoenix at 480-524-1678 and please allow us to offer you a free visual inspection.
Focus on Fire and Smoke Restoration in Phoenix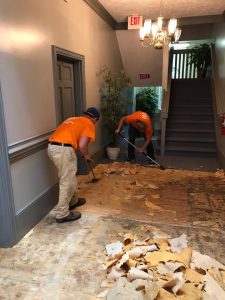 Dealing with fire damage restoration on your own can feel impossible. Fortunately, you can get professional help on your side right away by contacting 911 Restoration of Phoenix. Let our crews provide you with dedicated support and the information you need to feel confident about fire cleanup.
While technicians focus on water damage, fire, and smoke restoration, you can check out our fire information center. Technicians can pack out and store your undamaged belongings for safekeeping in the aftermath of a fire. We can also help you itemize any possessions that were lost in the fire for your insurance company.
These services are offered in addition to:
The Removal of Ash, Soot, Smoke, and Odors
Cleanup Services Involving Sodablasting
The Total Restoration of Your Home or Business
We know that odor and smoke removal in Phoenix is an important part of returning your property to better-than-new condition. By the time the fire cleanup techs are finished with your property, you should not even be able to tell that a fire occurred.
Let us put years of experience and training to work for you. We have the equipment and resources to take on commercial or residential fire and smoke restoration in Phoenix. Crews can also handle the frustration of a backfiring furnace with puffback cleanup in Phoenix.
Make sure you have the professional help you need to recover from a fire by contacting 911 Restoration of Phoenix right now. Let us assess your needs and develop a personalized restoration plan just for you. Call us at 480-524-1678 and learn how we can help