Mold Removal in Glendale
Mold spores can creep into the deep, dark areas of your property and hibernate until incoming moisture causes them to develop into a full-blown infestation. Since you can't always see mold, you need to be aware of other signs an infestation may present. If you notice a musty smell in your home or experience allergies when you are inside, you should have professionals check out the situation. The technicians at 911 Restoration of Phoenix provide property owners with a free visual mold inspection to determine whether or not you have a mold infestation. If mold is found in your property, repair techs are prepared to administer both water cleanup services and mold restoration in Glendale.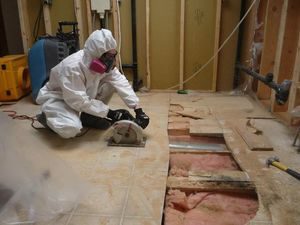 911 Restoration of Phoenix employs IICRC certified technicians who have years of experience providing mold cleanup in Glendale. They are experts at combatting the specific conditions that lead to mold growth in the area.
Ceiling leaks and home flooding issues are common causes of indoor mold and mildew development. Water will seep into the walls and ceilings, creating moisture problems that lead to mold growth.
It is crucial that you can talk to a staff member the moment you find yourself dealing with a mold problem. This live communication allows the technicians to get the details of your situation and respond appropriately.
Staff members will schedule technicians to arrive at your property at your earliest convenience. Our quick response will allow us to determine the extent of the infestation and contain the mold growth.
Technicians will manage every aspect of the mold removal process, from initiating the water damage repairs to conducting the mold cleanup procedures. All our efforts will lead us to guarantee that your property passes the mold clearance test once we are finished.
Since mold can begin growing within 24 hours of being exposed to moisture, receiving fast mold restoration is vital to your recovery. So, call 911 Restoration of Phoenix as soon as you notice signs of mold in your home or business, and we will get started giving you a Fresh Start!
Professional Mold Restoration Will Ensure A Speedy Recovery
Even though you may be confident in your own restoration skills, it is still essential to have a professional conduct the mold decontamination.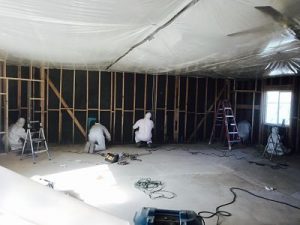 If you do not know exactly what techniques to administer, then you can easily spread mold spores around your home. This incompetence can cause the spores to grow in previously unexpected areas.
Professionals will install containment barriers to prevent airborne spores from landing in other rooms. This technique allows the repair techs to administer the mold cleanup while protecting the rest of the property.
Our experts always use powerful, yet safe, cleaning agents that address the underlying mold issue, instead of just topically removing it. By treating the mold growth at its core, we can best prevent future infestations from occurring.
While conducting mold removal, technicians may determine that water damage is the cause of the infestation. If this is the case, they will promptly implement speedy water damage repairs to stop the growth at the source.
Some situations require that your belongings be removed from the property until the mold restoration is complete. This ensures that your items stay safe during the remediation work. Repair techs will conduct the pack-out and storage services. If some items have become completely saturated with water or overgrown with mold, you can trust us to dispose of them safely.
There is no reason why you should put your health or your home at risk with a do-it-yourself mold removal effort. Call 911 Restoration of Phoenix today and let our professionals take care of your mold problem safely.
911 Restoration Always Gets To The Source Of Your Mold Problem
When our technicians are called to inspect a property, they meticulously pay attention to the on-site details to accurately determine the extent of the mold infestation and the source of the growth.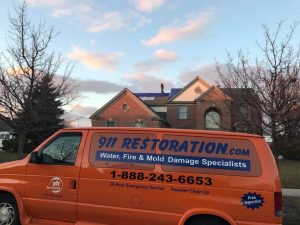 By using leak detection and infrared technology, our technicians are able to identify where the moisture is coming from and how it is causing the mold to grow.
Once the repair techs know where the trouble spots are, our experts can conduct water restoration services to cut off the life source to the mold. Once the moisture issues are contained, we can begin cleaning mold and mildew away.
Other mold remediation companies are not able to address both water and mold issues. However, when you work with 911 Restoration of Phoenix, you can trust you are hiring a team that can take care of every aspect of the restoration job.
When you hire our experts, you can be sure that our entire operation is trained to the utmost degree for your protection. Along with working with our trustworthy staff, you can also rely on us for affordable prices. Mold restoration has the potential to be costly, but 911 Restoration of Phoenix consistently keeps their prices competitive. We also work with insurance companies to cover the cost of any water damage restoration.
Call 911 Restoration of Phoenix as soon as you need mold cleanup in your residential or commercial property. Our skilled professionals will give you the peace of mind you deserve!
Proudly servicing the cities of Anthem, Ahwatukee, Buckeye, Burnstead, Carefree, El Mirage, Fountain Hills, Glendale, Goodyear, Laveen, Litchfield Park, New River, Paradise Valley, Phoenix, Peoria, Scottsdale, South Mountain, Sun City West, Surprise, Sunrise, Waddell, Youngtown, and the surrounding areas.