Sewage Backup Cleanup in Phoenix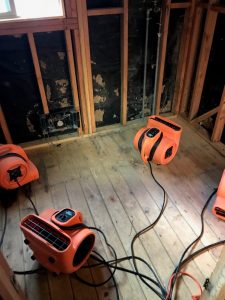 A sewage backup in Phoenix, Glendale, or Scottsdale can leave you dealing with a flooded bathroom, water damage, and raw human waste. 911 Restoration of Phoenix can address all of these issues for you right away. Our sewage cleanup crews can:
Begin Sewage Water Cleanup and Extraction Right Away
Assess Sewage Water Damage with a Visual Inspection
Decontaminate Your Property with Professional-Grade Cleaners
Resolve the Cause of Your Sewage Water Backup
Sewage water cleanup in Phoenix typically involves water removal. Sewage is considered black water, or water contaminated with human waste and potentially dangerous pathogens. For this reason, sewage cleanup in Phoenix should always be handled by professionals who have the proper protective equipment.
Our technicians are licensed, bonded, and insured to handle commercial and residential sewage backups in Phoenix. Our crews can arrive at your property in Phoenix, Glendale, Scottsdale, or any other surrounding cities within 45 minutes of an emergency call to begin same-day sewage restoration.
As a full-service water cleanup company, 911 Restoration of Phoenix can properly dispose of raw sewage in your home or business. We can also offer you a free mold inspection Phoenix and sewer backup cleanup in Phoenix, after you experience toilet water damage, as raw sewage may lead to a mold infestation.
Get total restoration services after you experience flooding caused by a sewage backup. The crews at 911 Restoration of Phoenix are here to offer you a Fresh Start and a totally renovated home or business, so you can get back your peace of mind.
How Soon Can Sewage Water Cleanup Start in Phoenix?
No one wants to discover that their sewage system has backed up into their home or business. Sewage can carry contaminants into your property, along with unpleasant odors. Fortunately, you can begin addressing these issues within 45 minutes by calling 911 Restoration of Sunrise 24/7/365 480-524-1678.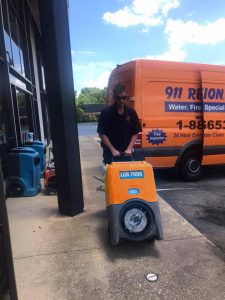 Our sewage cleanup crews are IICRC certified to:
Prevent Additional Sewage from Entering Your Property
Remove Sewage Waste Already in Your Home or Business
Cleanup and Disinfect Your Property After a Sewage Water Backup
Check for Mold Growth and Handle Water Damage Restoration
During the sewage water cleanup process, technicians can pack out and store your undamaged possessions. Depending on the location of your sewage water backup, you may need help handling:
Ceiling Leaks Caused by Toilet Water Damage
Bathroom or Basement Flooding
A sewage cleanup company can help you fully recover from these issues, bringing your property back to better-than-new condition. The sewage restoration process can remove all traces that you ever experienced sewage water damage in Phoenix by wiping away all odors and signs of damage.
Property owners can take control of their future by contacting 911 Restoration of Phoenix as soon as they experience a sewage backup. Let us assess your unique property restoration needs and begin building a sewage restoration plan for you. You can put a sewage backup firmly in the past by allowing our techs to fully restore your home or business in Phoenix, Scottsdale, or Glendale. Call us at 480-524-1678 and allow us to provide you a free visual inspection.
What Causes Sewage Backups in Phoenix?
Sewage spills can leave behind tremendous amounts of property damage in Glendale, Scottsdale, and Phoenix. Understanding the causes behind sewage water backups in Phoenix may be able to help you avoid this kind of water damage emergency.
In some cases, sewage backups in Phoenix are caused by clogs in your sewage pipes. Clogs may be formed by grease poured down kitchen sinks. Sometimes, roots can even grow into old clay sewage pipes, eventually blocking them off and leading to a major sewage spills.
Sewage backups can also occur if some sewage systems are overloaded by heavy rainfall and flooding. If the sewage water has nowhere else to go, it could backflow into your home or business, leading to basement flooding, toilet water damage, and a possible mold infestation.
You can get help handling sewage cleanup in Phoenix regardless of the causes of the sewage spill. The professionals at 911 Restoration of Phoenix can start addressing your sewage water damage immediately. Let us remove sewage from your property, disinfect your possessions, and bring your property back to 100%.
Sewer backup in Phoenix can start right now. You can get the same-day services you need from a professional water cleanup company. 911 Restoration of Phoenix can clean your carpets, walls, floors, and ceilings. Crews can focus on mold removal if we spot fungal growth in your property. We can handle burst pipes, toilet overflows, and any other type of sewage disaster you face, sewage cleanup in Phoenix, so call us 480-524-1678 today.
Serving the communities of Anthem, Ahwatukee, Buckeye, Burnstead, Carefree, El Mirage,,, Fountain Hills, Glendale, Goodyear, Laveen, Litchfield Park, New River, Paradise Valley, Phoenix, Peoria, Scottsdale, South Mountain, Sun City West, Surprise, Sunrise, Waddell, Youngtown and surrounding areas.