Water Damage Restoration in Phoenix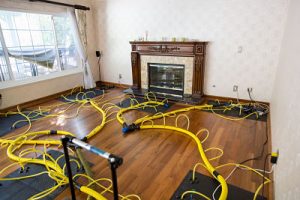 You can get help handling water damage caused by floodwaters or plumbing emergencies by calling 911 Restoration of Phoenix. Our water damage restoration crews will provide you water damage restoration service in Phoenix, they can reach properties in Phoenix, Scottsdale, and Glendale within 45 minutes of an emergency call and they are ready to go 24/7/365 480-524-1678.
Getting same-day water damage restoration in Phoenix can limit the total damage to your home or business. The professionals at 911 Restoration of Phoenix can provide you with:
A Free Visual Inspection for Property Owners Only

Immediate Water Extraction Services for Flood Cleanup

Help Handling Pipe Bursts or Frozen Pipes

Commercial and Residential Dehumidification Services
We know that flood cleanup in Phoenix may require mold removal services. A mold inspection can tell you if excess moisture led to a mold infestation in your home or business. If we spot mold in your property, techs can begin mold remediation in Phoenix right away.
911 Restoration of Phoenix is a locally owned and operated property restoration company that puts your peace of mind first after you experience a water damage emergency. Let us:
Pack Out and Store Undamaged Possessions

Offer You an Insurance Consultation

Repair, Renovate, and Restore Your Property
As a full-service property restoration company, we are also prepared to take care of all aspects of mold decontamination and mold removal in Phoenix. Crews can focus on completely restoring your property to better-than-new condition so you can get a Fresh Start after you experience a flood, pipe burst, or sewage backup in Phoenix, Glendale, or Scottsdale. call 911 Restoration of Phoenix at our number 480-524-1678
Tackle Water Damage Restoration Head-On
Water will continue to damage your property if it is not removed quickly. That's why 911 Restoration of Phoenix utilizes professional-grade water pumps, air movers, and fans to take care of water extraction after a flood or pipe burst in Phoenix.
Ridding your property of water can be the first step in water damage restoration in Phoenix. Depending on your unique needs, property restoration techs may also need to:
Search for Hidden Spots of Moisture with Infrared Scanners

Use Dehumidifiers to Dry Out all Traces of Moisture

Repair Damage Caused by High Water Levels

Complete a Mold Inspection in Phoenix
Mold removal in Phoenix can help protect your health, as some forms of mold can be toxic. Mold decontamination can remove the odors associated with mold growth, ensuring that your property is returned to the perfect condition that you deserve.
The end goal of flood cleanup in Phoenix will be restoring your peace of mind and providing you with a Fresh Start. Restoring your home or business may involve mold remediation, water extraction, and repairs to the structure of your property. During the restoration process, techs can pack out and store your undamaged possessions safely, so they are ready to be returned when the restoration work is finished. 
You do not have to wait to get help recovering from water damage in Phoenix, Scottsdale, and Glendale. You can contact 911 Restoration of Phoenix any time of the day or night to ensure you have professional help on your side. so contact us today at 480-524-1678
Water Damage and Mold Removal in Phoenix
As we mentioned, mold growth can become a serious issue after you experience water damage caused by a leaking pipe, burst pipe, flood, or sewage backup. You may notice discoloration on your floors after you experience carpet water damage, or a strange smell if you are dealing with a ceiling leak or basement flood in Phoenix.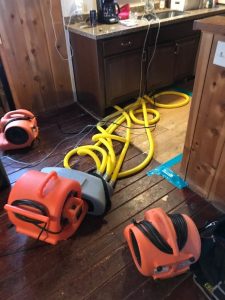 These signs may point to a mold infestation. You can determine if you are facing a mold problem with a mold inspection. Techs can take a sample of any mold they discover and send it to a 3rd party laboratory for testing and identification.
Once a mold inspection tells us what kind of mold we are dealing with, techs can:
Focus on Mold Remediation by Isolating Mold Growth

Get Rid of Moisture That Allows Mold to Thrive

Handle Mold Decontamination with Professionals Cleaners

Work on Odor Removal
Erasing any sign that you experienced a mold infestation can give you back your peace of mind. Let us focus on mold remediation and mold decontamination as techs go over your water damage restoration needs after a pipe burst emergency. As a full-service property restoration company, We can handle water removal, structural repairs mold removal, and water damage restoration in Phoenix.

Getting the help you need immediately can lower the overall stress of a water damage emergency. Let us take charge of flood cleanup and mold remediation in Phoenix so you can get a Fresh Start with a completely restored home or business. Techs will work tirelessly to renovate your property, so call us 480-524-1678 today.

 

njj