Water Damage And Mold Removal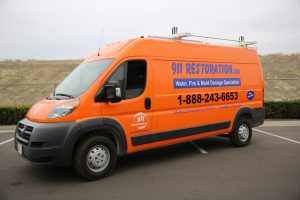 No property is ever truly safe from the threat of water damage. Even in dry, sunny Phoenix, local properties can still be hit hard by an unexpected storm or flooding. Plus, homes and businesses alike frequently find themselves in need of emergency water damage restoration following pipe bursts, sewage backups, flooded washer machines, and faulty sprinklers.
The point is, you can never fully guard your property against water damage. You can, however, recover quickly with quality water damage restoration and mold remediation.
911 Restoration of Phoenix has handles flood cleanup in Phoenix and the surrounding areas. Our water damage restoration technicians are the best in the industry, IICRC certified and highly trained to handle everything from carpet water removal to roof repair.
These flood cleanup experts guarantee an arrival time of 45 minutes or less, and that goes for any water damage emergency at any time. Day or night, you can call 911 Restoration for immediate water damage restoration. That even includes weekends and holidays.
Worried about the cost of flood repair and mold inspection? Flood cleanup staff will sit down with you and walk you through the coverage of your insurance policy. They help you understand which services your provider is responsible for and will help you file a claim.
At 911 Restoration, our customers' peace of mind is everything. Your dedicated water damage restoration team anticipates every one of your concerns and eliminates your worries with urgent attention and expert service. Whether it's a pipe burst or a mysterious wall leak, today's water incident doesn't have to be a full-blown disaster. Call 911 Restoration of Phoenix and let our compassionate technicians make your property pristine again.
Emergency Residential And Commercial Water Extraction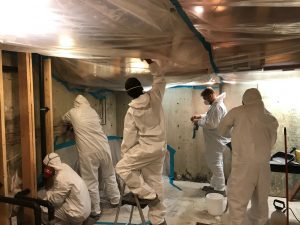 You cannot afford to wait on water damage restoration. The longer water sits on your property, the greater your damages will be. Extensive water damage is costly and presents health and safety risks to you, your family, and your pets. If you're experiencing commercial property water damage, today's incident could interrupt business and leave you needing to make urgent repairs to ensure the space is safe for customers.
The water damage restoration technicians at 911 Restoration understand what's at stake. Whether you need flood cleanup for a home or a business, they respond with the urgency your situation deserves. The moment you call, they rush to the scene, promptly offering a free visual inspection for property owners. After they've sized up the situation, they set to work on your most immediate needs first. Storm repair, roof repair, leak detection, boarding up… they handle every emergency flood cleanup service imaginable.
Once they've completed water extraction and resolved the water leak or backup, they dry out the area using professional-grade fans. If any structures have been destroyed, they tear out and replace the damage, leaving your home or business in even better condition than before your pipe burst.
The water damage restoration process concludes with a mold inspection and mold decontamination. Our water damage restoration technicians anticipate possible future damages from today's incident and perform mold remediation to ensure that they've eliminated your water issue and the risk of an infestation down the road.
The ultimate goal of 911 Restoration of Phoenix is to set you on the path to a Fresh Start. Contact us now for comprehensive water damage restoration and mold remediation. Technicians will be at your door within 45 minutes.
Certified Mold Remediation In Phoenix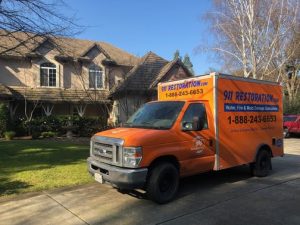 Water damage restoration in Phoenix should always include a thorough mold inspection. A thriving mold colony may develop on a damp surface in as little as 24 hours. If you've recently experienced water damage, you likely need mold decontamination services.

Mold is more than a pesky side effect of water damage. Without prompt mold removal, an infestation can destroy your carpets, flooring, and walls. Mold can hide behind the walls of your home or business and pass harmful mycotoxins through the air ducts. Even if you only suspect there is a growth in your home, your best option is to call 911 Restoration for a thorough mold inspection.

It's important to allow certified professionals to handle mold removal. Because some varieties of mold are highly toxic, you need a mold remediation expert who has the tools and knowledge to remove mold safely. Our mold decontamination crew also uses professional tools for drying the structures of your property, making your surfaces inhospitable to future growth.

The water damage restoration process can be complicated and varied. Rest assured that no matter what your needs are—whether you need commercial water extraction after a pipe burst or mold removal—911 Restoration has you covered. All you have to do is pick up the phone.

Servicing the cities of Anthem, Ahwatukee, Buckeye, Burnstead, Carefree, El Mirage, Fountain Hills, Glendale, Goodyear, Laveen, Litchfield Park, New River, Paradise Valley, Phoenix, Peoria, Scottsdale, South Mountain, Sun City West, Surprise, Waddell, Youngtown, and surrounding areas.

njj