Water Damage in Phoenix
911 Restoration of Phoenix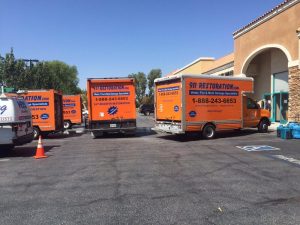 911 Restoration Phoenix is here to make everything better than it was before after a water damage incident and we have the know-how, tools, techniques and training to do so for you at an exceptional value too.
If a section of your home was ruined, such as a kitchen that was affected by a grease fire, then your property now has the opportunity to get transformed into a brand new kitchen that you have always dreamed about.
It is imperative to your peace of mind that the positivity shines through and overpowers the negative. This is why customer service is such an important part of the process to our company.
Our water damage restoration professionals understand how chaotic it can feel to be faced with a disaster in your home or business, and 911 Restoration wants to be the company that can help you through literally any situation.
Our water damage restoration team has the skills to make your home beautiful and bring peace to your living space. Home is where the heart is, and trust that it is in good hands. In order to keep you reassured that you are working with a company that is thoroughly dedicated to helping you, we offer a plethora of services, some that include:
When you call us you get help 24/7/365.
A 45-minute response time and same-day service is guaranteed to you.
You are also entitled to a free damage estimate.
Our water damage Phoenix techs don't want you to feel alone when you find yourself faced with floodwater in your warehouse or a pipe burst in your garage, which is a big part of the reason why our customer service center stays open around the clock. When you need the best services in Phoenix we want you to trust in us. The restoration solution is just around the corner with our water damage Phoenix experts at 911 Restoration Phoenix, so give us a call today!
Water Damage Restoration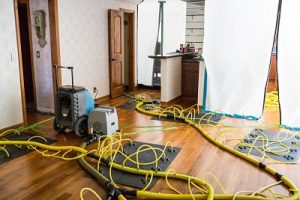 The water damage Phoenix team at 911 Restoration is the guiding force your home needs for quick and thorough recovery.
What makes us equipped to handle water damage is that we work with IICRC certified technicians that assist us with every aspect of the cleanup procedure. From extracting water to drying the premises, we do whatever it takes to remove all the moisture from your building or household quickly.
For example, in the event of a flash flood we are capable of repairing carpets and drywall that has been damaged. It is important to understand that not everything can be restored, and in some instances it may be necessary to part with items. Our water damage restoration Phoenix pros know that this can be an emotionally charged situation, so if need be, we will take charge of things in order allow you to stay calm and relaxed throughout the process.
Furthermore, we know how to extract water in a way that guarantees you that mold will never grow. Mold can begin to grow within 24 hours of becoming watered, which is partly why our water damage restoration Phoenix agents work so hard to get the moisture removed from your property in such a timely manner.
Moreover, the restoration job includes microbial treatment, thus preventing odors from coming to fruition and putting a hamper on your life. Other companies use strong chemicals that can be hazardous to the environment, but at 911 Restoration we use eco-friendly cleaning agents that get your home smelling fresh while keeping our earth safe.
If your home is already experiencing a category two water invasion, and you want the best in the business to handle it for you, then contact our water damage restoration Phoenix experts with 911 Restoration Phoenix today!
Disaster Restoration
Our disaster restoration Phoenix techs are more than just repair workers who deal with water damage and deep cleaning, we are also a full service provider that allows our staff to handle numerous amounts of home and business restoration scenarios, including:
Flood Cleanup
Hail Damage Restoration
Roof Repair
These are just small ways that the rudimentary skills our disaster restoration Phoenix professionals have picked up over the years has made us prepared for all disasters. Some common issues we have been faced with in the past are kitchen fires, pipe bursts and sewage overflows. Whatever is asked of our disaster restoration Phoenix agents they are qualified to handle, so you can fully trust in our skill set when you hire us.
Our disaster restoration Phoenix specialists will also go the extra mile and file your insurance claims for you. We are the masters of disaster restoration. So, call our disaster restoration Phoenix specialists with 911 Restoration Phoenix when you need expert care performed on your property today!
Fire Damage Restoration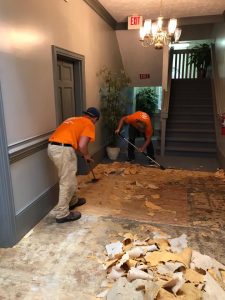 The fire damage Phoenix team knows what it takes to get your home looking and smelling fresh. See, in a fire, smoke deposits remnants of a blaze all throughout the home, thus, in order to secure you a fresh start then the home needs to be thoroughly cleansed.
Luckily, for you, you get the support of a team that has been doing this for years. Our fire damage restoration Phoenix team will clean up every last corner of your home using advanced water extraction methods that remove moisture caused by a firefight, picking up any debris along the way.
Since lingering smoke can create a foul smell that is not easily dissapated,  our fire damage restoration Phoenix team neutralizes odors in the home using a thermal fogger. This creates a cloud of chemicals, that are safe for your home, that bind to the micro remains of flames that cause odors, thus eliminating the smell.
This a just one of many ways in which we can provide you with a fresh start. So if your home has recently been through a structure fire, then contact our fire damage restoration Phoenix team with 911 Restoration Phoenix for help today!
Sewage Backup Cleanup
Sewage backup often occurs as a result of root invasion or blockage in waste lines. It can easily go unnoticed until suddenly one day your toilet is overflowing black water into your home or business, creating a hazardous environment for anyone who comes into contact with the toxic waste.
When this happens to you, give us a call. We can clean up the mess and then sanitize the area, making it safe for you and your family, once more. In the event of backup, our water damage Phoenix team recommends contacting us for whatever it is you need help with.
Every job we perform is centered on bringing you peace of mind. Don't let a category three water exposure ruin your lovely home. Contact our sewage backup cleanup Phoenix team with 911 Restoration Phoenix for immediate relief today!
Mold Removal
The mold removal Phoenix team at 911 Restoration believes in providing the residents of the community with utter peace of mind in regards to all home restoration needs.
When a mold colony forms in your home it can cause headaches and strange odors. That is the complete antitheses of the fresh start.
If you think you have a mold problem, then call us for a free visual mold inspection. We will check for signs of a mold infestation that includes discoloration, crumbling drywall, and pungent odors.
If we find mold, then we will provide you with a free damage estimate that includes the duration of removal along with what it takes to fix the underlying causes of a mold infestation.
Once you have seen and agreed to the conditions, we will begin work right away. The first step is always to quarantine the affected area. The reason being, mold can dislodge itself, and then spread elsewhere.
Afterwards, we remove damaged material, and then replace it with sterile supplies after drying out any existing moisture. This helps prevent further growth, so you can breathe easy for years to come. So, if your gorgeous home is starting to smell musty, then you may have a fungus infestation and you should contact our mold removal Phoenix crew with 911 Restoration Phoenix for expert care today!