Water Damage and Mold Removal Ahwatukee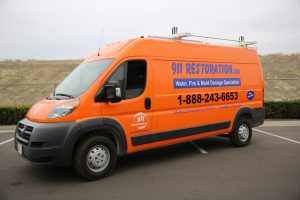 What do you do when your house gets flooded? Who do you call for a water pipe burst in a condo? Why does water leak through the wall of your business each time it rains, and how do you fix it?
The answer to all these questions is easier than you think. Call 911 Restoration of Phoenix.
911 Restoration is staffed by true water damage restoration experts who have undergone extensive training and earned IICRC certification. Our flood cleanup and mold remediation technicians have the answers and solutions to all your needs, whether you've had a pipe burst or a flooded washer machine. They have become the go-to experts for water damage restoration in Ahwatukee and beyond, and you can count on them for comprehensive, knowledgeable service.
No matter what form it takes, water damage is always an emergency. The water damage restoration staff at 911 Restoration know this, so they guarantee an arrival time of 45 minutes or less. They are also available anytime you need them. Our lines are open 24/7/365.
911 Restoration is licensed, insured, and bonded. Water damage restoration technicians offer a free visual inspection for property owners and third-party laboratory testing as part of mold inspection and mold remediation. This is a water mitigation and mold removal company built on principles of integrity, transparency, and compassion.
Water removal companies are a dime a dozen. 911 Restoration of Phoenix is so much more than that. Call today for full-service restoration, emergency response, and meaningful customer care.
Speedy Water Damage Repair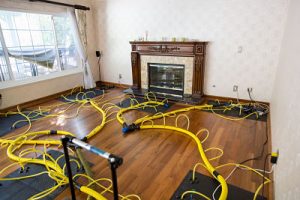 The water damage restoration workers of 911 Restoration are highly trained in a wide range of emergency services. This includes emergency storm repair, boarding up, water and sewage removal, roof repair, and packing out your belongings to protect them from water damage. They also handle leak detection, if you can't make sense of your wall leak or ceiling drip.
Water damage restoration can be a complicated process. Depending on the type of water incident and the location where it occurred, you might need repairs beyond simple water extraction and structural drying. You can rest assured that your dedicated flood cleanup crew has both the expertise and tools to handle any repair. They replace rotted floorboards, remove destroyed carpet, repair your roof or drywall, and conduct thorough mold inspection and mold removal.
Worried about the cost of flood repair? The water damage restoration staff also provides a free insurance consultation. Because your needs may be complex and varied, it isn't always easy to hash out which services your provider will cover. Our flood cleanup staff reviews your insurance coverage and guides you through your benefits. And don't worry about being left to pursue those benefits on your own. 911 Restoration even assists with filing a claim and bills your provider directly.
From mold infestations to pipe bursts in Ahwatukee, 911 Restoration of Phoenix is your best bet for urgent water damage restoration and the caring service you deserve. Contact us now, and we'll be there in 45 minutes or less.
Mold Inspectors In Ahwatukee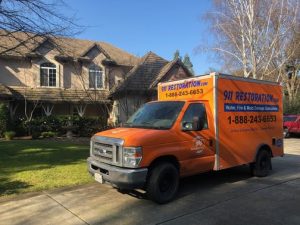 It isn't true water damage restoration if it doesn't include mold inspection and mold remediation.

Why?

Because mold spores are constantly in the air around you. No matter how clean your home or business is, you cannot prevent mold spores from entering your property on clothes and through air ducts. This means that when a pipe burst or ceiling leak occurs, those spores are ready and waiting to land on a damp surface. Once they do, it only takes 24 hours for them to develop into a mold colony.

With this in mind, our water damage restoration technicians complete every flood cleanup job with a thorough mold inspection. They search every hidden nook where mold might hide so they can conduct prompt mold decontamination before a colony spreads too far. If you wait too long for mold removal, the fungus begins to eat away at the surfaces of your home, including drywall, floorboards, carpeting, and wallpaper.

More importantly, certain varieties of mold release mycotoxins into the air you breathe. In these cases, your health depends on immediate mold decontamination. The longer you delay mold removal, the likelier you are to develop health issues such as allergies, respiratory issues, and even heart problems.

A certified mold removal expert such as 911 Restoration can get rid of a growth quickly and safely. Our mold remediation technicians also take extra care to fully dehumidify the structures of your home or business to prevent against a repeat infestation. The ultimate goal of our water damage restoration efforts is to restore your property to its best-ever condition. The flood cleanup crew work hard to ensure your home or business is mold-free, water-free, fully repaired, and fortified against future events.

As disastrous as your water incident may feel, these water damage restoration workers want to turn it into a new beginning for your property. If you need flood cleanup or mold remediation in Ahwatukee, call 911 Restoration of Phoenix for a Fresh Start.

Servicing the cities of Anthem, Ahwatukee, Buckeye, Burnstead, Carefree, El Mirage, Fountain Hills, Glendale, Goodyear, Laveen, Litchfield Park, New River, Paradise Valley, Phoenix, Peoria, Scottsdale, South Mountain, Sun City West, Surprise, Waddell, Youngtown, and surrounding areas.

njj