Water Damage in Sun City
Although there are obvious ways that moisture can invade your property, more often than not, water damage is created by circumstances that are not always expected. If your wall AC is leaking water inside your home or mold begins growing in the air ducts of your business, you can depend on the technicians at 911 Restoration of Phoenix. Their technicians will administer water damage restoration in Sun City to make your property a clean, safe place again for you and your loved ones. The service agents are available 24/7/365 to take your calls, making it possible to provide you with emergency restoration services around the clock. Whether you need flood cleanup or leak repairs, customers can trust that we will quickly and efficiently restore your property, day or night.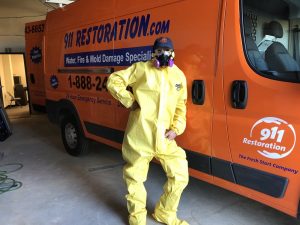 911 Restoration of Phoenix works with IICRC certified specialists who are trained to implement water damage restoration services in both residential and commercial properties.
Along with employing qualified technicians with decades of experience, our entire restoration company is licensed, bonded, and insured for the protection of all our customers. These credentials allow property owners to have total confidence in the abilities of our experts.
Property owners will receive free visual inspections when the repair techs get on the scene. This initial checkup allows the team to survey the damages, look for mold, and formulate an estimate.
Mold is often a byproduct of water damage, which is why the repair techs always check for signs of growth. When we call technicians to a water clean up job, they are also prepared to conduct mold decontamination services.
Once the repair techs get to work, they will use the most advanced mold and flood cleanup equipment. We ensure your full recovery from even the most extreme cases of water damage, as well as guaranteeing your property passes the mold clearance test.
911 Restoration of Phoenix is the locally owned and operated water mitigation company you can trust to understand what you want and need as a property owner in Sun City. So, call us today to receive water damage restoration from a team you can depend on!
Ceiling Leak Repair And Mold Decontamination In Sun City
Most people feel they can rely on the roof over their heads to protect them against the elements. However, sometimes your roof can be the very thing that causes the damage inside your property.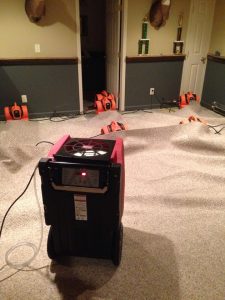 When not maintained correctly, your roof can begin to deteriorate. Roof damage will let moisture inside your home or business, leading to structural issues, wood rot, and mold growth.
Being exposed to the harsh winds and heavy rains created by the frequent thunderstorms in Sun City can all wreak havoc on your rooftop. Fortunately, there are ways to protect your property, and your family, from these situations.
By having the technicians at 911 Restoration of Phoenix inspect your roof before the rainy season, you can catch minor imperfections before they turn into big problems, as well as prevent mold and mildew development.
However, if the technicians do discover signs of water damage and mold during their inspection, they will get to work right away. Customers can expect us to reinforce your roof, conduct mold decontamination, and mitigate any water damage.
Technicians will use containment barriers to keep spores from spreading throughout the property during the cleaning process. They will also set up air purifiers and vacuums to remove all traces of the mold.
These measures will remove a significant health risk from the environment, ensuring that you and your family no longer inhale spores regularly. Immediate mold cleanup can help reduce allergies and other symptoms.
Along with mold decontamination procedures, the water cleanup crew will conduct advanced water damage restoration services. Removing invasive moisture and pinpointing its entry point will help prevent future instances of mold.
Our technicians know exactly what to look for in situations involving ceiling repairs and mold removal. They guarantee your home will pass the mold clearance test, so give 911 Restoration of Phoenix a call today!
Customer Service Is The Main Aspect Of A Successful Water Damage Job
Our staff understands that your main focus is getting professional water damage restoration, but for 911 Restoration of Phoenix, you are our top priority.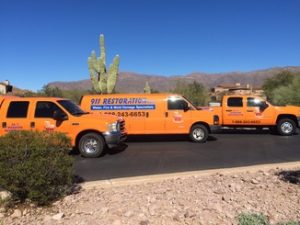 Ensuring that you receive next-level customer service is just as important to our crew members as it is for you to get your property moisture-free.

There is more to the restoration effort than cleaning flood damage. The people involved need to be guided through the ordeal, especially if a water disaster has impacted your property.

It is crucial to get your insurance company involved as quickly as possible so you can report the damages and begin receiving the financial aid you deserve.

Staff members will provide you with a free insurance consultation. This one-on-one help should make submitting your insurance claim as straightforward as possible.

If you have never had to report water damage to your insurance provider before, the staff will help determine your coverages and file your claim for you.

The repair workers want you to trust us to be your one-stop-shop for all your water damage needs. This customer service includes being your primary support system throughout the entire ordeal. We will give you the confidence you need to make it through this vulnerable time, so call 911 Restoration of Phoenix today!

Proudly servicing the cities of Anthem, Ahwatukee, Buckeye, Burnstead, Carefree, El Mirage, Fountain Hills, Glendale, Goodyear, Laveen, Litchfield Park, New River, Paradise Valley, Phoenix, Peoria, Scottsdale, South Mountain, Sun City West, Surprise, Sunrise, Waddell, Youngtown, and the surrounding areas.

njj