Disaster Restoration Phoenix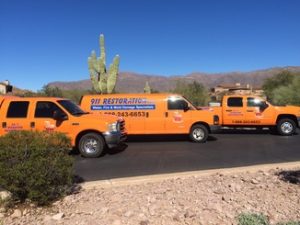 Disaster can strike without warning in Phoenix, Scottsdale, and Glendale. Property owners may need help recovering from natural disasters like floods, earthquakes, and fires. Manmade disasters may also occur if a pipe bursts or a sewage backup occurs in your home or business. You can get help addressing any of these issues by contacting 911 Restoration Sunrise.
Our crews are always ready to take your call. We are prepared to spring into action 24/7/365 480-524-1678. Disaster restoration technicians provide service for Disaster restoration and storm restoration in Phoenix, Glendale, and Scottsdale within 45 minutes of a call to offer you:
Emergency Water Extraction
Emergency Pack-Out and Storage Services
We know that there's no time to waste if you are facing a property disaster. Let us provide you with the help you need to recover from business or home flooding and storm damage repair in Phoenix. Techs have the equipment and resources to handle any type of disaster quickly and effectively. Our IICRC certified disaster restoration technicians have the training and experience to provide you with:
Fire Damage Cleanup Services
Let us begin disaster restoration in Phoenix right now so you can quickly get back your peace of mind after an emergency situation. We can handle water damage, fire damage, mold infestations, pipe bursts, sewage backups, and more. Crews can offer you the dedicated services you need and a Fresh Start. Call us today and technicians can return your property to better-than-new condition. Call us at 480-524-1678 to provide you storm restoration services, and a free visual inspection in Phoenix.
How Should You Handle Water Damage in Phoenix?
Property disasters take many forms in Phoenix, Glendale, and Scottsdale. Many emergencies are caused by water damage. You may find that you need water damage restoration and hurricane restoration in Phoenix after pipe bursts or heavy rains lead to home flooding.
911 Restoration of Phoenix can take control if you are facing disastrous water damage in your home or business. Our water damage restoration crews are licensed, bonded, and insured to:
Extract Water from Your Property after a Basement Flood
Utilize Infrared Scanners to Find Hidden Spots of Moisture
Dry Your Property with Professional-Grade Dehumidifiers
Technicians can address business and home flooding in Phoenix, Glendale, and Scottsdale with same-day services. We know that water can continue to damage your property if it is not removed quickly. That's why it's important to begin water removal as soon as possible after a disaster.
Let us take care of your water damage emergency. Crews can also inspect your property for signs of mold after a flood, heavy storm, or pipe burst in Phoenix. Mold can flourish if it is given a damp, dark environment. Mold removal crews can check for this fungus and get it out of your property.
Get the professional help you need to recover from commercial or residential flooding by contacting 911 Restoration of Phoenix now. Our crews are trained to handle emergency water damage quickly, to prevent further damage from occurring. Begin water damage restoration in Phoenix by calling us 480-524-1678 today.
Can You Get Fire Damage Cleanup in Phoenix?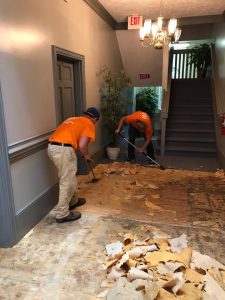 Pipe bursts, along with business and home flooding, are one of the primary causes of property disasters in Phoenix. You may also experience disastrous property damage if your property experiences a fire. Commercial and residential fires can damage your property and your possessions. The flames can also leave behind soot, ash, and smoke damage.
Fire damage cleanup in Phoenix can help you resolve all of these issues. The fire restoration crews at 911 Restoration of Phoenix know what it takes to:
Repair Structural Damage Caused by Fires
Use Sodablasting to Cleanup Fire Damage
Remove Ash, Soot, Odors, and Smoke
We understand that fire damage cleanup may also require water damage restoration, especially if fire hoses were used to put out the flames. Fortunately, we can help you recover from this kind of water damage in Phoenix while focusing on restoring the damage caused by fire, soot, ash, and smoke.
Technicians can also offer you a mold inspection after you experience a fire. Mold removal may be necessary if you experience carpet water damage from sprinkler systems or fire hoses. Taking care of mold removal right away can prevent this fungus from spreading and causing a larger problem for you later on.
We are dedicated to helping you get back your peace of mind after any property disaster. Let us handle disaster restoration, water damage cleanup, fire damage cleanup, and mold removal in Phoenix. Our crews can take charge if you are dealing with home flooding, pipe bursts, fires, or the damage caused by heavy storms. Call us at 480-524-1678 and see how we can help you.
Serving the communities of Anthem, Ahwatukee, Buckeye, Burnstead, Carefree, El Mirage,,, Fountain Hills, Glendale, Goodyear, Laveen, Litchfield Park, New River, Paradise Valley, Phoenix, Peoria, Scottsdale, South Mountain, Sun City West, Surprise, Sunrise, Waddell, Youngtown and surrounding areas.