Mold Removal in Peoria
Although Arizona has an arid climate, there are times of the year where the weather shifts into one filled with torrential rain and violent wind. This time of year is considered to be the monsoon season, and it is filled with warm-weather thunderstorms. This increased precipitation puts homes and businesses in Peoria at risk of becoming affected by water damage and mold. 911 Restoration of Phoenix has decades of experience administering mold remediation and water damage restoration in this region. The technicians at our locally owned and operated restoration company understand the specific mold cleanup services that Peoria needs to recover from any infestation fully.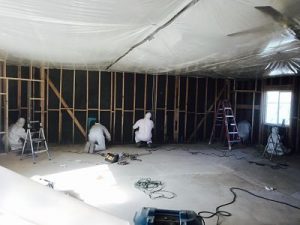 When property owners need expert mold remediation in Peoria, they can trust 911 Restoration of Phoenix to respond with comprehensive services that will address every aspect of the mold problem.
Water damage plays an integral part in mold development. Our repair techs approach every job prepared to implement water damage repairs and mold cleanup procedures.
Customers can trust in the technicians' ability to conduct thorough mold remediation services in their home or business. They are IICRC certified to eradicate mold infestations in both residential and commercial properties.
Property owners will receive a free visual mold inspection as soon as the technicians arrive on site. This initial survey will allow the repair techs to determine the extent of the damage and formulate an estimate of the services needed.
Along with thorough mold removal techniques, technicians will also facilitate mold testing services to determine the nature of the mold growing in your home or business.
You are our top priority, and the staff will do anything we can to ensure a safe environment for our customers. Call 911 Restoration of Phoenix to receive high-quality mold cleanup in Peoria from a restoration company you can trust today!
The Customer's Health Is Integral To The Mold Removal Process
Even though most customers are concerned with how mold affects the aesthetics of their property, the main concern should be how mold can potentially impact the health of everyone spending time inside the property.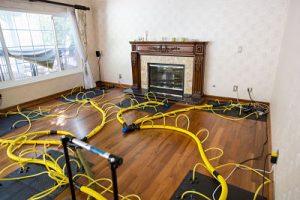 It is crucial to get technicians to your property immediately after discovering mold growing in your business or living space. Prolonged exposure to certain types of mold can lead to substantial health issues.
Inhaling mold spores can cause people to experience allergy symptoms and respiratory issues. In severe cases where black mold is involved, lung infections and internal bleeding can even
To help maintain a healthy environment for you and your loved ones, our specialists will take professional mold samples from your property. Once gathered, they will send the samples to a third-party laboratory to be tested.
These tests will determine the specific mold type growing inside your property. The results will allow us to create a mold remediation strategy that will decontaminate your home or business completely. The repair techs are qualified to administer thorough mold removal and water damage repair services. By addresses both these issues, your property will have the best chances of passing the mold clearance test.
We are always prepared to administer water damage restoration because technicians usually find that unmitigated moisture issues are the cause of most mold infestations.
911 Restoration of Phoenix is ready to provide you with mold decontamination the moment you need help. So, call the water mitigation company you can depend on to get your property water damage and mold-free!
911 Restoration Will Handle Every Aspect Of The Mold Remediation
By hiring the professionals at 911 Restoration of Phoenix, you can have total confidence that you are receiving affordable, high-quality mold removal services.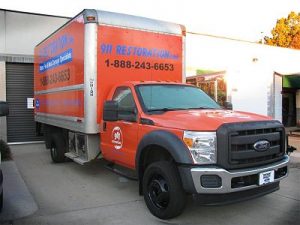 Our technicians have many years of experience eradicating mold and mildew from properties that have been overrun with all types of fungi. They have seen it all, from harmless pink mold to the dangerous black mold.

Not only do we specialize in mold removal, but we excel at customer service. 911 Restoration of Phoenix wants its customers to feel taken care of throughout the entire process.

The staff wants to be as accessible as possible to their customers to answer any questions and put to rest any concerns. Many customers want to know about the mold inspection cost, which is free when you work with 911 Restoration.

By conducting these free visual mold inspections, technicians can give customers an estimate on the mold removal cost and put their minds at ease. You will find that we consistently offer affordable services, making professional mold cleanup possible for the entire Waddell community.

Our organization always has the goal of spreading its Fresh Start attitude to as many people as possible. By keeping competitive prices on premium services, 911 Restoration of Phoenix can assist the entire community.

So, call the technicians who understand what you want and need out of a mold company. 911 Restoration of Phoenix will turn your mold infestation into the Fresh Start you deserve!

Proudly servicing the cities of Anthem, Ahwatukee, Buckeye, Burnstead, Carefree, El Mirage, Fountain Hills, Glendale, Goodyear, Laveen, Litchfield Park, New River, Paradise Valley, Phoenix, Peoria, Scottsdale, South Mountain, Sun City West, Surprise, Sunrise, Waddell, Youngtown, and the surrounding areas.

njj