Mold Removal in Surprise
When it gets to the point where you can see mold growing inside your home or business, it might mean that there is an entire infestation lurking behind the walls. The warm climate in Surprise allows mold to multiply after the spores have been exposed to moisture, with development starting within 24 hours. Mold grows in places of the property that are generally unseen, such as in attics, behind walls, underneath sink cabinets, and inside air ducts. Since most people do not check these areas regularly, it is wise to have 911 Restoration of Phoenix inspect all these hard-to-reach places for you. Property owners receive free mold inspections. These check-ups allow the technicians to determine the extent of the mold growth, devise a mold remediation plan, and come up with an estimate.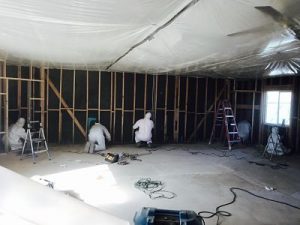 When customers need mold remediation in Surprise, they can have complete confidence that 911 Restoration of Phoenix will thoroughly eradicate their mold infestation.
911 Restoration of Phoenix employs IICRC certified technicians who have decades of experience administering mold cleanup in both residential and commercial properties. 
Along with working with highly qualified repair techs, the restoration company is licensed, bonded, and insured. This status ensures that all of our customers are protected in full when they hire our mold experts.
Keeping you safe in the face of mold is our top priority. To make sure you are living and working in a healthy environment, the technicians facilitate professional mold testing services to figure out the specific type of mold living in your property.
911 Restoration of Phoenix will cover all your bases when you hire their mold specialists. So, call the mold remediation company you can trust to take care of you today!
Emergency Water Damage Cleanup Can Prevent Mold 
It is common for water damage to lead to instances of mold in both homes and businesses in Surprise. If moisture is left to sit on wood, drywall, and other porous materials, it can lead to mold within 24-48 hours.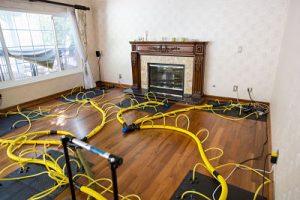 Our technicians are available around the clock to provide you with emergency water damage restoration. By quickly implementing leak and flood damage repairs, the repair techs will help prevent mold.
Due to the definite connection between mold and water damage, repair techs always look for both issues when they give property owners their free mold inspection.
Even if you initially call 911 Restoration of Phoenix for water mitigation services, their repair techs will routinely look for signs of mold and mildew. They are always prepared to administer mold cleanup in Surprise.
The drier the property, the less the chances are that mold will grow back. By implementing structural drying and dehumidifying techniques, the repair techs will create an environment that is not conducive to mold development.
Call 911 Restoration of Phoenix at the first sign of water damage or mold in your home or business. Our mold specialists will provide thorough mold cleanup services to give you the peace of mind you deserve.
Mold Experts That Have Your Best Interests In Mind
911 Restoration of Phoenix sets themselves apart from the mold remediation companies by offering full-service restoration work to every customer, no matter what the situation may be.
Our technicians are capable of conducting mold removal services in concert with any other issue you may be experiencing, whether it be a ceiling leak, flood damage, sewage overflow, or the aftermath of a fire.
Mold can grow in unlikely places at ferocity one may not expect, which is why quick and thorough mold cleanup is essential to recover your property from an infestation fully.
Many different types of mold can grow indoors. Some can severely influence your health, such as black mold, causing allergies, respiratory problems, and lung infections.
To make sure you do not have a dangerous mold species living in your property, technicians will take professional mold samples. Repair techs will send the samples to a third-party laboratory where they will be tested.
Customer service is the most crucial part of mold remediation, and 911 Restoration of Phoenix proves that on every job. Call the restoration company you can trust to turn your mold problem into a Fresh Start today!
Proudly servicing the cities of Anthem, Ahwatukee, Buckeye, Burnstead, Carefree, El Mirage, Fountain Hills, Glendale, Goodyear, Laveen, Litchfield Park, New River, Paradise Valley, Phoenix, Peoria, Scottsdale, South Mountain, Sun City West, Surprise, Sunrise, Waddell, Youngtown, and the surrounding areas.