Water Damage and Mold Removal Scottsdale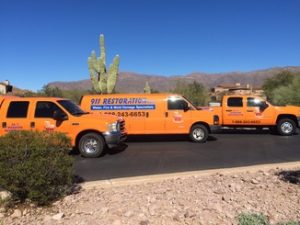 No matter where you live, water damage is a real issue that can strike property owners without warning. Anything from leaky appliance hose to a burst pipe can you leave you scrambling to get back to normal. That's why the team at 911 Restoration is available 24/7/365 to handle your water damage restoration in Scottsdale. We believe that the restoration should be a simplified and streamlined process, which makes up the core of our Fresh Start guarantee.
The key to a successful water damage restoration in Scottsdale is a fast and efficient response. Water damage negatively affects a property the longer it's allowed to exist. If left unchecked, water damage can damage appliances, furniture, carpet, and even your walls in the event of flooding due to seeping into the drywall. At that point, nothing less than flood cleanup will get the job done.
Besides the damage from the water itself, property owners also need to be wary of a mold infestation. Mold only needs as little as 24 hours to start growing. Just like water does, mold can damage your property. The mold eats away at organic materials like drywall, wood, and carpet fibers, while also presenting health risks. For most people, abundant mold growth can cause breathing issues or headaches just to name a couple of symptoms.
If you're suffering from water damage or suspect mold, don't hesitate to call the technicians at 911 Restoration. We will completely handle your water damage restoration in Scottsdale and your mold removal from start to finish. Call us today to get started on your Fresh Start.
Making Sense of your Water Damage
The initial fallout of water damage can be confusing for a property owner. Nothing is as it should be, and many things are damaged beyond repair. At 911 Restoration, we understand that which is why we work to provide peace of mind to our customers by walking them through the entire water damage restoration process.
Backed by technicians that are IICRC certified, we start with a visual inspection to identify the full scope of the water damage so a plan of action can be decided. Once you sign off on the plan, we get to work. We don't believe in wasting time or using anything but the best. That's why we use the latest water extraction equipment and commercial dryers to get your property dry as a bone promptly to avoid the need for mold removal.
With us, you can count on full accessibility during the water damage restoration in Scottsdale. Our technicians will be more than happy to answer any questions you have. In addition, we can walk through the insurance process so you can relax knowing that your claim will be filed successfully, while we get the job done right.
You deserve the best in water damage restoration services so call the crew at 911 Restoration and we'll be there within 45 minutes of your call ready to work.
Mold Removal is a Call Away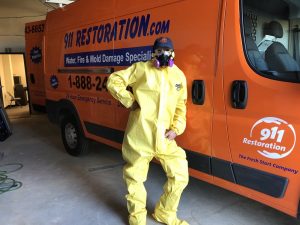 Sometimes, water damage can be subtle, allowing mold to begin growing. Other times, the water damage can be so severe like with a flooded basement that there's no preventing the mold infestation. When that happens, the best move to make is to call the mold removal specialists at 911 Restoration.
When we arrive on the scene, we start with our visual inspection to determine every source of the mold so that we do a thorough and complete job the first time. Because mold can affect a person's health, we use state of the art containment measures to prevent the mold spores from becoming airborne.
We take your health seriously, which is why we offer third-party mold testing to verify the toxicity of the mold within your property. Regular mold is already potentially damaging to your health, and toxic mold is even more so. As soon as you suspect mold, call the mold removal experts to start protecting your health and your property.

When you need mold removal, don't hesitate to call the mold removal experts at 911 Restoration. We'll be there to handle the entire process as well as any needed water damage restoration in Scottsdale including flood cleanup to keep the mold from reoccurring.