Mold Removal in Maricopa County
When properties in Maricopa County are affected by water damage, the effects can be significant. The warm weather creates an environment conducive to mold development, especially after water has invaded the premises. Mold spores can begin growing within 24 hours after being exposed to moisture. The rapidity at which mold can spread makes immediate mold remediation crucial. 911 Restoration of Phoenix understands your vital need for fast mold cleanup in Maricopa County. Their technicians will respond quickly to give property owners a free visual mold inspection. During their initial surveillance, the mold experts will check for mold and water damage. It is common to get mold from water damage, which is why our technicians specialize in both water and mold remediation.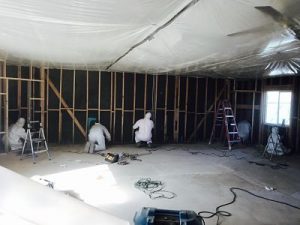 911 Restoration of Phoenix is licensed, bonded, and insured for the protection of all their customers. We employ technicians who have been IICRC certified by the Institute of Inspection, Cleaning, and Restoration. 
On top of being certified to the highest standards in the restoration industry, our technicians have decades of experience cleaning mold and mildew from residential and commercial properties.
Keeping customers safe from the effects of mold is our top priority. To ensure that you are living and working in a safe environment, technicians will conduct professional mold sampling and testing on the fungi growing in your property
When you're looking for mold remediation companies you can trust, call 911 Restoration of Phoenix. Our mold specialists are ready to tackle any mold problem you may be facing, so give us a call today!
Rotting wood, crumbling drywall, and a strong odor are just some of the signs noticed with a mold infestation. Mold can also affect a person's health, as well. 
Understanding How Water Damage Contributes To Mold Production
Like any other living thing, mold needs food and water to survive. One can find both these elements inside homes and businesses, usually in the form of wood, paper, drywall, cotton, and water damage.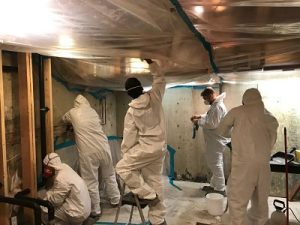 It doesn't take long for mold spores to develop into an infestation. When mold is exposed to a steady source of moisture, it can begin growing throughout your walls, ceiling, and flooring within 24 hours. 
Mold colonies tend to grow in warm, damp, dark parts of a property, such as in attics, air ducts, walls, sink cabinets, and crawlspaces. All of these areas are susceptible to being impacted by water damage.
Since mold can generate under moist circumstances, it is crucial to pay attention to situations that can create water damage in your property. Invasive moisture may present itself as a constant drip under your kitchen sink or an AC leaking water in the inside of the house.
Whatever the issue, customers can rely on 911 Restoration of Phoenix to administer the water damage restoration needed to stop a current mold infestation or prevent future problems.
Repair techs will use the latest water extraction, drying, and dehumidifying techniques to completely dried out the property. By getting the home or business as dry as possible, you will have a higher chance of passing the mold clearance test.
Customers can trust that our highly trained technicians will administer comprehensive mold remediation in Maricopa County. So, call 911 Restoration of Phoenix as soon as you notice signs of water damage in your property. Our repair techs will make sure you get the water and mold cleanup services you need!
The Importance Of Receiving A Free Mold Inspection
Mold tends to grow in parts of the property that most people do not check consistently. Without proper inspections, water can accumulate in these areas and cause an extensive mold infestation.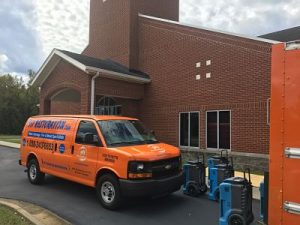 Locations such as subfloors, attics, air ducts, and in between walls are the perfect breeding grounds for mold and mildew. The longer the mold has time to grow, the more damage it can do to both your property and your health. 
Under the right conditions, mold can grow freely for a substantial amount of time without being noticed, making regular inspections essential to maintaining your property.
911 Restoration of Phoenix makes it easy for customers to receive these checkups by offering property owners free visual mold inspections. Technicians will look for signs of water damage, mold, and structural issues to determine the customer's need for mold cleanup services.
By allowing mold experts to inspect your property, you will have the best chances at catching a mold inspection at its earliest stages.
Not only is fast mold remediation essential to recovering your home or business, but it is necessary for preventing many health issues. Mold spores can travel through the air, which can get into your lungs and cause allergies, respiratory problems, and infections.
To ensure our effectiveness, mold specialists use the most advanced equipment and latest mold removal techniques. Between containment barriers and powerful cleaning agents, technicians can safely remove the mold while protecting your health.
At 911 Restoration of Phoenix, our staff is ready to assist you in a moment's notice. So, call the technicians you know care and understand what you need out of a mold cleanup company today!
Proudly servicing the cities of Anthem, Ahwatukee, Buckeye, Burnstead, Carefree, El Mirage, Fountain Hills, Glendale, Goodyear, Laveen, Litchfield Park, New River, Paradise Valley, Phoenix, Peoria, Scottsdale, South Mountain, Sun City West, Surprise, Sunrise, Waddell, Youngtown, and the surrounding areas.