Water Damage and Mold Removal in Laveen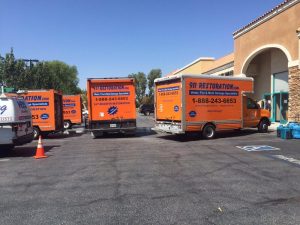 What are you water damage restoration needs? Emergency water extraction after a pipe burst? Sewage removal and sanitation? Storm repair and flood cleanup? Mold inspection and mold decontamination?
No matter why you need water damage restoration in Laveen, you can rest assured that the best disaster cleanup company is only one call away. It doesn't matter when you need emergency flood cleanup—whether it's the dead of night or New Year's Day—911 Restoration of Phoenix is at your service 24/7/365. Even better, their water damage restoration workers guarantee an arrival time of 45 minutes or less.
As sunny and peaceful as life in Laveen can be, local property owners are still vulnerable to sudden storms and run-of-the-mill incidents like pipe bursts and washer machine floods. The water damage restoration crew at 911 Restoration have seen it all, and they understand exactly what you're going through. When you call on them, you can expect emergency response and total compassion, as they work to resolve every concern and get you back on your feet in record time.
They handle every aspect of flood cleanup, from water extraction to mold removal. Every water damage restoration professional is IICRC certified and highly trained in best practices for flood cleanup and mold remediation. The company is licensed, insured, bonded, and dedicated to delivering full property restoration.
Water damage can feel like a daunting and costly undertaking, but your friendly flood cleanup technicians will work hard to anticipate your needs and minimize costs. If you need a reliable ally in water damage restoration, call 911 Restoration of Phoenix today.
Commercial And Residential Water Damage Repair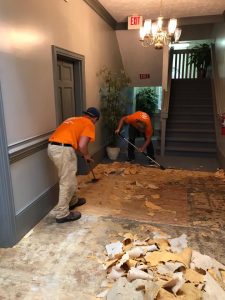 No property is safe from water damage. From condos to offices to local markets, a pipe burst or sewage backup can strike any property at any time. This is why the flood cleanup technicians at 911 Restoration are trained to restore every type of property to its former glory.
They also have the skills to manage any type of water damage. If you need emergency roof repair, leak detection, boarding up, or storm repair, they're on it. They fully dehumidify the structures of the affected area to prevent mold growth and structural weakening. They sanitize your property in the wake of a sewage overflow, and they handle contaminated carpet removal. If any structures have been destroyed, including drywall, roofing, and sheetrock, they repair and replace every damaged surface. Every water damage restoration job requires mold inspection as well, as mold can form within 48 hours of a water incident. The crew at 911 Restoration handles inspection as well as mold remediation.
Of course, the lingering question on every property owner's mind is, "What will this cost?"
What is the cost of flood damage? What is the cost of mold inspection? What about roof repair and carpet removal?
The flood cleanup specialists at 911 Restoration work with you to keep costs low, and this includes offering free insurance consultation. They review your plan and explain which services are covered by your provider. Then, to be certain you get the coverage you are owed, they assist with loss itemization and file your claim for you. They even bill your provider directly so you can focus solely on the limited expenses (if any) that fall to you.
Our water damage restoration staff are first and foremost about providing peace of mind for property owners in need of flood cleanup in Laveen. If you're ready for a Fresh Start without the headache, call 911 Restoration of Phoenix.
Expert Mold Remediation In Laveen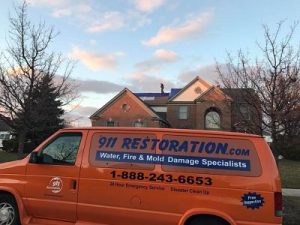 Mold removal is urgent and necessary if you've recently had water damage in your property.
Any type of water damage may lead to the development of mold, and mold eats away at the structures of your home or business without prompt mold remediation. More to the point, you should always call on an expert for mold inspection and mold removal. Why?
Mold hides out in sneaky, unseen places, where it's only likely to be discovered with a professional mold inspection. Different varieties of mold are highly toxic, releasing mycotoxins into the air you breathe and putting you, your colleagues, and your family at risk of developing serious health conditions. It's dangerous to let mold go undetected or to put off expert mold remediation. However, it's just as dangerous to tackle mold removal yourself. Scrubbing at an infestation puts you in direct contact with the colony and the dangerous mycotoxins it releases. Certified specialists know how to handle mold remediation safely, without spreading spores or mycotoxins throughout your property.
In water damage restoration and mold decontamination, your safety is our first priority. Reach out to 911 Restoration of Phoenix and enjoy expert service from a restoration contractor who cares about you.
Servicing the cities of Anthem, Ahwatukee, Buckeye, Burnstead, Carefree, El Mirage, Fountain Hills, Glendale, Goodyear, Laveen, Litchfield Park, New River, Paradise Valley, Phoenix, Peoria, Scottsdale, South Mountain, Sun City West, Surprise, Waddell, Youngtown, and surrounding areas.