Water Damage in Paradise Valley
Property owners in Paradise Valley can rest assured knowing that the professionals at 911 Restoration of Phoenix are just a phone call away to provide them with emergency water damage restoration. Technicians are always standing by just in case water disaster takes place in your home or business. The repair techs are qualified to administer residential and commercial water extractions, so owners of either property type can depend on us. 911 Restoration of Phoenix is available 24/7/365 to help the Paradise Valley community. Day or night, technicians will respond within 45 minutes of receiving your call, ready to administer leak repairs and flood cleanup services. We are proud to be able to provide same-day, water damage restoration in Paradise Valley, no matter what time your water emergency takes place.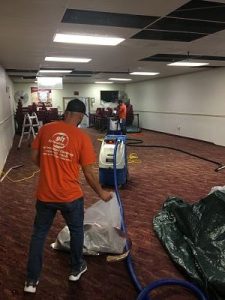 Speedy water damage repair service is crucial when it comes to dealing with leak and flood damage. The faster we administer water extraction and drying services, the better the chances are of avoiding the development of mold.
Property owners can count on the technicians to address any level of water damage or mold affecting your property. We work with IICRC certified repair techs who have decades of experience in the restoration industry.
Along with employing highly trained technicians, 911 Restoration of Phoenix is licensed, bonded, and insured. This insurance status means that all of our customers will be protected in full when they work with our restoration company.
As a nationwide water mitigation company, 911 Restoration can help property owners all over the county. However, each branch is locally owned and operated. This means that every location is run by experts who understand the specific water damage restoration needs in their area.
Customers in need of leak and flood cleanup in Paradise Valley can trust that our technicians will execute a water damage cleanup plan that is sure to address every issue affecting their property. Water damage can be as a result of many things, such as a water leak in a ceiling, sewage overflow, or even a broken city water pipe. Whatever the situation may be, our technicians are always standing by to tend to your needs.
You can feel comfortable reaching out to us anytime, even if you are unsure if you even need water damage restoration because property owners receive free visual inspections.
911 Restoration of Phoenix will make the water cleanup process a positive experience for everyone. So, call the restoration company you can trust to turn any water emergency into a Fresh Start today!
Quick Ceiling Leak Repairs Will Prevent Mold Infestations
In Paradise Valley, when it rains, it pours. The area is frequented by thunderstorms that can cause torrential rainfall, exposing even the slightest crack in your property's roof or foundation.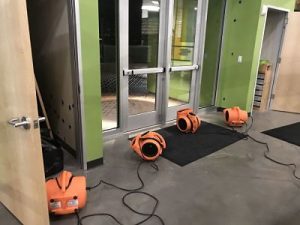 If you find yourself experiencing a leaking ceiling, leaks from walls, or any type of home water leak during a rainstorm, you should immediately call 911 Restoration of Phoenix.
Water can damage your home quickly, seeping into the drywall and causing deterioration and mold infestations quicker than you might think. It only takes 24 hours for mold spores to begin growing after being exposed to moisture.
The technicians use leak detection technology such as infrared cameras to pinpoint the source of the water damage. This advanced equipment allows us to remove as much moisture as possible in a short period.
By utilizing advanced water extraction, drying, and dehumidifying equipment, technicians can remove all traces of moisture. By getting your property into its driest state, we can create an inhospitable environment for mold.
Years of experience has enabled our crews to streamline the mold restoration process. Our actions will guarantee that your property will pass the mold clearance test once we are finished. 
Not only can you count on us to mitigate the current issues in your property, but our repair workers will make efforts to prevent future instances of mold and water damage, as well.
No matter what the circumstances may be, property owners can rely on 911 Restoration of Phoenix to take care of everything involved in remediating leak damage and mold growth. So, call our technicians to get the peace of mind you need to get through any water disaster today!
Customer Service Is An Integral Part Of Water Damage Restoration
When our crews are called to control a water damage issue or a mold infestation, the first thing crew members will do is make sure the customer fully understands the situation.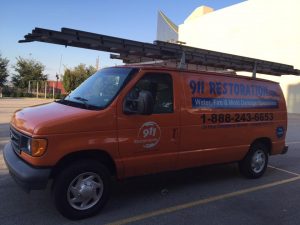 Understandably, this can be an overwhelming time, but as soon as we are on the scene, you can feel confident that everything is going to be ok.

It doesn't matter if you need flood cleanup or mold decontamination. The technicians are qualified to administer a wide range of restoration services that are sure to get you back on your feet.

Customers can be confident that our comprehensive water damage and mold removal procedures come with a level of customer service matched by none of the other flood cleanup companies.

By promptly managing leak and flood cleanup services, the technicians will prove their complete dedication to turning your household into the living space you deserve.

The quick and thorough water clean up techniques are the best way to prevent water damage and mold from affecting your property all over again. No matter what level of emergency you may experience, you can count on our professionals to get you and your family through the entire ordeal.

We want property owners to know that we will help them with every aspect of the repair process, including assisting you with your insurance provider. Our staff puts a significant emphasis on customer service and helping you determine your insurance coverage is part of that.

Staff members understand that it can be confusing to figure out what is covered in your insurance policy, especially if you have never been in this situation before. So, to make things easier, we will provide you with a free insurance consultation.

Call 911 Restoration of Phoenix when you need high-quality water cleanup and mold removal services. Our technicians will be there quickly to begin giving you the Fresh Start you deserve.

Proudly servicing the cities of Anthem, Ahwatukee, Buckeye, Burnstead, Carefree, El Mirage, Fountain Hills, Glendale, Goodyear, Laveen, Litchfield Park, New River, Paradise Valley, Phoenix, Peoria, Scottsdale, South Mountain, Sun City West, Surprise, Sunrise, Waddell, Youngtown, and the surrounding areas.

njj