Water Damage in El Mirage
Despite the relatively dry climate in El Mirage, there are still ways for moisture to invade your property and cause water damage. Water issues can be created by a broken water pipe on the street, an AC unit leaking water inside, a shower water overflow, or wall pipe burst. Fortunately, as soon as you need water damage restoration in El Mirage, you can call 911 Restoration of Phoenix.  Customers can expect our technicians to respond at any time because the office is open 24/7/365. Repair workers will be at your door within 45 minutes, day or night, to begin flood cleanup procedures.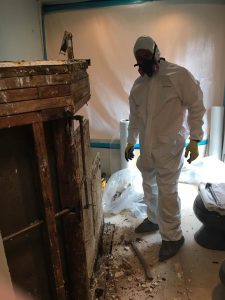 The repair techs always want to be available to help you right when your water emergency occurs. There is no time to waste when it comes to dealing with water-based issues because the longer you wait for help, the more damage the moisture can create.
911 Restoration of Phoenix has decades of experience administering the latest water damage restoration techniques. All of our time spent in the restoration industry has shown us how crucial it is to conduct same-day, leak repair, and flood cleanup services for our customers.
Customers can have complete confidence in our ability to administer speedy water damage repairs. The technicians we employ are IICRC certified, meaning they have reached the high standards the Institute of Inspection, Cleaning, and Restoration.
On top of working with experienced, qualified technicians, the entire water mitigation company is licensed, bonded, and insured for the protection of all our customers.
Technicians will start the repair process by giving the property owner a free visual inspection. This initial checkup will ensure that the repair techs understand the extent of the water damage and formulate an estimate.
When you hire 911 Restoration of Phoenix, you can trust us to know precisely what you want and need out of a restoration company. So, call us today and let us show you that water damage can be the beginning of a Fresh Start!
Receive Water Cleanup Now To Stop Mold Growth Later
When your property becomes flooded with water, it automatically becomes susceptible to mold growth, especially in El Mirage, where the temperature is consistently warm.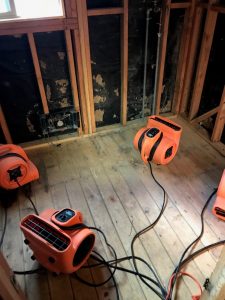 Mold thrives in damp, warm, dark areas, such as behind walls, inside attics, in air ducts, and underneath sink cabinets. When water invades these spaces, mold spores can begin growing within 24 hours if the conditions are right.
Even seemingly minor leaks can eventually develop into a mold infestation, making immediate water damage restoration crucial. Since mold is such a common byproduct of water, technicians will check for signs of an infestation when they conduct their initial inspection.
The repair techs will get into all those hard-to-reach places to ensure all traces of water and mold are found and promptly mitigated. By setting up air movers and dehumidifiers, they will get the area as dry as possible.
The drying process is an integral part of the water damage restoration process. Not only does it prevent wood rot and structural issues, but it allows us to create an environment that is not conducive to mold growth.
Customers can be sure that the repair techs will administer a water extraction and drying strategy specifically designed to mitigate the issues affecting your property.
Call 911 Restoration of Phoenix as soon as you discover signs of water damage or mold in your property. You will have peace of mind knowing that our technicians will take care of everything as soon as they arrive.
Fast, Affordable Leak And Flood Cleanup in El Mirage
When property owners call the office, the main things they want to know is what the cost to mitigate a water intrusion will be and whether or not we accept insurance.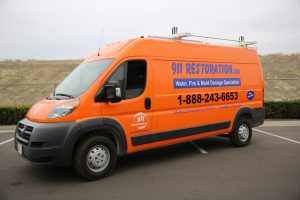 Customers will be pleased to know that on top of consistently keeping their prices competitive, 911 Restoration of Phoenix works with all insurance companies.
To make the financial side of the water damage restoration go as smoothly as possible, the staff provides customers with free insurance consultations.
A staff member will go over your insurance policy with you to help determine what coverages you are entitled to receive. If you need help filing your insurance claim, then you can depend on us to handle that as well as.
Our team has many years of experience working with insurance companies in the restoration industry, and we know exactly what information they need. We even provide direct insurance billing, so you never have to worry about it.
The technicians on site will assist you with itemizing your losses so you can keep track of everything you need to file and get your receipts in order. It is also helpful to take pictures of your property damages and any affected belongings so that you can get the most out of your coverage.
The staff at 911 Restoration of Phoenix is here to help you with every aspect of the repair work. So, call the restoration company that does so much more than just flood cleanup. We will show you that water damage is actually a Fresh Start!
Proudly servicing the cities of Anthem, Ahwatukee, Buckeye, Burnstead, Carefree, El Mirage, Fountain Hills, Glendale, Goodyear, Laveen, Litchfield Park, New River, Paradise Valley, Phoenix, Peoria, Scottsdale, South Mountain, Sun City West, Surprise, Sunrise, Waddell, Youngtown, and the surrounding areas.