Mold Removal in Goodyear
When water damage is left to stagnate, it has the potential to create mold. This is especially true in Goodyear, where the warm climate lends itself to creating the ideal environment for indoor mold. When moisture is introduced to dark, indoor spaces, the heat beating down on your property creates humidity that mold can flourish within. 911 Restoration of Phoenix understands the connection between mold and water damage better than the other mold remediation companies. Through years of experience administering mold cleanup in Goodyear, their technicians have become experts repairing both moisture and mold problems. Customers can trust in our IICRC certified repair techs ability to guarantee their property passes the mold clearance test.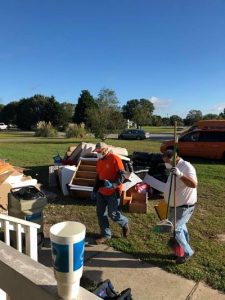 There are many reasons why you should not let mold grow freely throughout the property. Not only does mold look and smell bad, but it eats through the wood, creates rot, and poses health risks.
Immediate mold remediation is crucial in maintaining a healthy household. It only takes 24 hours for dormant spores to develop into an infestation after being exposed to moisture.
Our experts have a reputation for acting fast in these situations, as well as paying incredible attention to detail, two skills that are essential to every mold removal job.
Property owners will receive a free visual mold inspection as soon as they arrive on the premises. This initial checkup will allow the technicians to determine the extent and source of the mold growth.
If there is a home water leak or flooding issue contributing to the mold infestation, then repair techs will get to work conducting speedy water damage repairs. These quick water cleanup services will stop the mold at source and aid in preventing future outbreaks.
When you hire 911 Restoration of Phoenix, you can have total confidence that you are working with technicians that understand what you want and need out of a restoration company. So, call us at the first sign of an infestation in your home or business, and we will turn your mold problem into the Fresh Start you deserve!
Mold Experts That Specialize In Water Damage Restoration 
When you discover standing water in your home or business, it is essential to not attempt a restoration effort on your own. Invasive water has the potential to be filled with bacteria and toxins that can influence your health.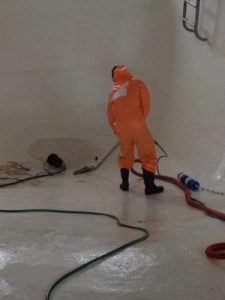 Instead, call 911 Restoration of Phoenix and let the staff know the circumstances you are facing so they can best guide you through the situation.
If you find yourself dealing with an active flooding situation, service agents will walk you through the steps to shut off the main water valve to your property. You may also want to turn off your circuit breaker and shut off electricity to be safe.
Once the technicians arrive on the scene, they will use professional-grade equipment and techniques to extract all water from the property and get it as dry as possible.
After the bulk of the water is removed, technicians can conduct a mold inspection. If there are signs of an infestation forming, they are prepared to begin mold cleanup services immediately.
You never have to feel like you have to deal with a mold problem on their own. By cleaning mold on your own, you may expose yourself to harmful spores that can activate your histamines and cause respiratory issues.
Our technicians will wear protectant gear and set up containment barriers to stop spores from spreading throughout the property and on to their bodies. You can trust that we will take all the precautionary measures needed to keep you and your family safe.
911 Restoration of Phoenix is qualified to offer you comprehensive water damage and mold cleanup services. We want to be the water mitigation company that safely gets you through a mold crisis, so give us a call today!
911 Restoration Should Be Your First Choice For Mold Remediation in Goodyear
Understandably, it can be challenging to learn that you have a potentially toxic substance growing in your property. To keep you feeling positive about your recovery, 911 Restoration's main priority is to make sure that your emotional wellbeing is intact.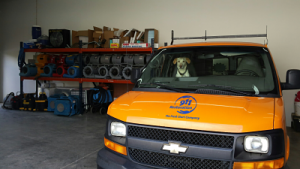 The technicians hope to spread the Fresh Start attitude by always staying accessible to answer any questions you might have about the mold cleanup procedures being done in your property.
When we say that our customers come first, we mean it. It doesn't matter what questions you may have; we want you to communicate with staff all your concerns so we can immediately put your mind at ease.
Office agents are standing by around the clock to take your calls and schedule an appointment at your earliest convenience. Once you are assigned a project manager, they will be by your side from start to finish.
They will even help you with the insurance process. Although mold remediation is not typically covered, water damage usually is included in your policy. A professional will provide you with a free insurance consultation to determine what coverage you are entitled to receive.
With so many years of working with insurance companies, our service agents have made great relationships with the providers. They understand what information insurance companies need to get you the most out of your insurance plan.
When you have so much going on in your property, it is important to be able to depend on staff that can keep everything for you. So, call 911 Restoration of Phoenix when you need mold remediation, and we will get your property decontaminated and sanitized in no time!
Proudly servicing the cities of Anthem, Ahwatukee, Buckeye, Burnstead, Carefree, El Mirage, Fountain Hills, Glendale, Goodyear, Laveen, Litchfield Park, New River, Paradise Valley, Phoenix, Peoria, Scottsdale, South Mountain, Sun City West, Surprise, Sunrise, Waddell, Youngtown, and the surrounding areas.