Water Damage and Mold Removal in Buckeye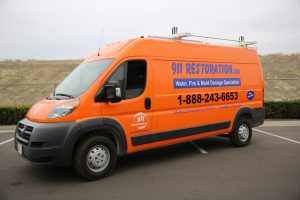 Your home or office represents years of hard work and dedication to a dream. When a pipe burst or sewage overflow unexpectedly floods that dream, you need assistance from a disaster cleanup company who appreciates what's at stake.
The water damage restoration technicians at 911 Restoration of Phoenix understand how special your property is to you. They don't just extract the water and leave. They give you full service water damage restoration, from leak detection for solving the root of the problem to mold remediation for preventing further problems.
The flood cleanup crew also works fast to make sure your property faces as little damage as possible. They are available to you 24/7/365, and when your call comes in, they promise to be on the scene in 45 minutes or less.
Professional integrity is everything to the staff at 911 Restoration. The company is licensed, bonded, and insured. Each and every water damage restoration specialist is IICRC certified, so you can count on them to handle water extraction, structural repair, and mold removal safely. They complete every flood cleanup job with structural testing and mold inspection to ensure your home or business is sound and sanitary. They even take away the burden of filing your insurance claim, as they offer a free insurance consultation and file a claim on your behalf.
Water damage is nothing less than an invasion of the property you've worked so hard to protect. But if you need flood cleanup in Buckeye or the surrounding communities, you have the best resource at your fingertips. Call now, and 911 Restoration of Phoenix will be there within 45 minutes.
Emergency Water Damage Restoration In Buckeye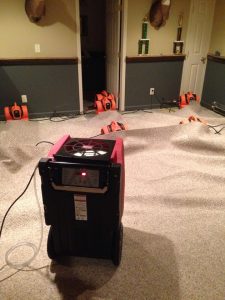 Water does far more that make everything wet. Even an air conditioner leak can saturate the structures of your property and create a breeding ground for mold on your walls. The sooner you have water damage restoration services, the better. And with 911 Restoration, you can expect a flood cleanup crew that responds as urgently as you do.
From pipe bursts to storm damage, the water damage restoration specialists of 911 Restoration come prepared to offer a wide range of emergency services. Need fast sewage extraction? Require boarding up in a storm? No matter what your damage is, this crew handles it fast.
They begin by packing out and storing any belongings that might be vulnerable to damage during the flood cleanup process. Then, they commence water extraction, bringing in fans to dry out the water damage. They dehumidify the structure of your property in the hopes of preventing any need for mold removal later on. If you've incurred any property damages—from destroyed carpet to a roof cave in—they set to work making repairs. They even conclude their work with a thorough mold inspection.
As understandably stressed as you may be, your water damage restoration team sees this disaster as an opportunity to rebuild, better than ever. They look for every opportunity to make your home or business stronger than before.
For a Fresh Start, call 911 Restoration of Phoenix today.
Removing Mold From Water Damage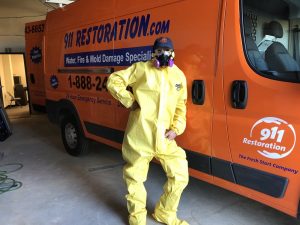 It can be easy to think you don't need mold remediation in Buckeye. After all, in such a dry and sunny climate, how could mold even survive?

The mold specialists at 911 Restoration of Phoenix have handled mold removal in Buckeye enough times to assure you: when the walls, floor, and ceiling of your property are saturated with water, those structures soak up every ounce and hold it tight. If you've had water damage in your home or business, you need a mold inspection and mold remediation right away.

It only takes 24-48 hours for mold to develop after water damage. An infestation is likeliest to thrive in dark, damp areas that are out of sight and challenging to access. Certified mold remediation experts like the crew at 911 Restoration know exactly where to inspect for mold following water damage, whether you've had a pipe burst, ceiling leak, or full-blown flood. If their professional mold inspection reveals an infestation, they bring in professional tools for mold decontamination and structural dehumidifying.

If you discover mold on your own, it's important to seek the assistance of a certified mold removal company. They can follow up with a mold inspection to make sure the infestation hasn't spread to other areas of the property. They are also better equipped to handle mold decontamination safely.

Without a doubt, there are so many things to think about and boxes to check when it comes to water damage restoration. The good news is that 911 Restoration of Phoenix does all the thinking and box checking for you. If you need a flood cleanup crew for your pipe burst or house flood, call 911 Restoration today.

Servicing the cities of Anthem, Ahwatukee, Buckeye, Burnstead, Carefree, El Mirage, Fountain Hills, Glendale, Goodyear, Laveen, Litchfield Park, New River, Paradise Valley, Phoenix, Peoria, Scottsdale, South Mountain, Sun City West, Surprise, Waddell, Youngtown, and surrounding areas.

njj