Water Damage Peoria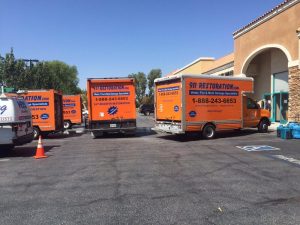 Maybe it's a pipe burst at 4:00 in the morning. Maybe it's a washer machine that floods just as you're rounding up the kids for school. Maybe you arrive at work on a Saturday to discover a horrifying sewage backup. No matter when or why you need water damage restoration in Peoria, one thing remains the same:
You need emergency service. And you can get it from 911 Restoration of Phoenix.
Flood cleanup workers are standing by 24/7/365 to assist with your water damage emergency. It doesn't matter when your call comes in. They respond urgently, arriving at your home or business within 45 minutes, guaranteed. These water damage restoration experts come prepared to address any type of repair you may need. This includes water extraction, roof repair, mold inspection and mold remediation.
The goal of 911 Restoration is to give every customer immediate peace of mind. That's why the flood cleanup technicians work quickly to minimize the damage and cover every aspect of water damage restoration, so you don't have to spend extra time and money on additional contractors. Your peace of mind is also why they offer a free insurance consultation. Many property owners understandably worry about the potential cost of flood damage cleanup. At 911 Restoration, our staff walks you through your insurance coverage so you know exactly what to expect. They also assist with loss itemization and file your claim for you.
The water damage restoration crew at 911 Restoration are all IICRC certified and trained to resolve every issue resulting from your pipe burst or property flood. From knowledgeable service to emergency response, our technicians do all they can to put your mind at ease.
For the best flood cleanup and mold remediation in Peoria, call 911 Restoration of Phoenix.
Emergency Flood Repair In Peoria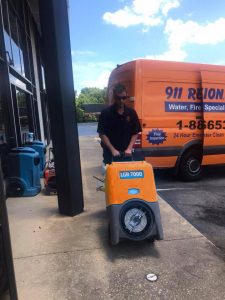 There are a million reasons why water damage is an urgent need, from hardwood flooring damage to lost productivity if you have to shut down business until the problem is resolved.
Both residential and commercial property owners in Peoria will find the emergency support they need at 911 Restoration of Phoenix. Our 45-minute arrival time is a genuine guarantee. And once the water damage restoration crew arrives at your property, they don't waste a second. You can expect speedy water damage repair, including emergency boarding up, roof repair, storm repair, water extraction, and leak detection.
Mold grows quickly in a damp property, so the flood cleanup technicians also work quickly to eliminate all moisture from your home or business. They bring in professional fans to fully dehumidify the structures where your leak, pipe burst, or flooding occurred, in an effort to save you from the expense of mold remediation later on.
In addition to immediate, expert service, the water damage restoration staff are dedicated to leaving your property in its best-ever condition. They repair all damages, including damages to drywall, flooring, and roofing. They handle carpet removal and sanitation. Finally, after mold inspection and mold remediation, you can be sure your home or business is clean, sound, and protected from further damage.
The water damage restoration crew at 911 Restoration of Phoenix wants nothing more than to give you a Fresh Start. Call today and let them make your property better than ever.
Why Mold Removal Is Part Of Water Damage Restoration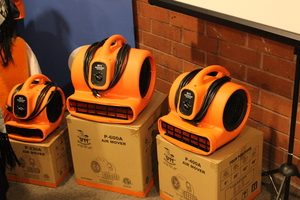 The flood cleanup crew at 911 Restoration of Phoenix have been repairing properties after flood damage and pipe bursts in Peoria for a long time. In their extensive experience, they've learned that water damage leads to mold more frequently than one would wish.
Mold spores are always in the air around you. They enter your property on clothing and through air vents, and as soon as the structures of your home or office become damp, the mold spores land and develop into mold colonies. Mold spreads quickly, and without prompt mold removal, it eats away at the structures of your property.
More importantly, delayed mold decontamination puts your health at risk. Toxic varieties of mold contaminate the air you breathe, leading to a range of health issues from allergies to heart problems.
The water damage restoration technicians at 911 Restoration conclude flood cleanup with a complete mold inspection. The mold remediation experts even offer a free visual mold inspection for property owners. They explore every nook and cranny where mold is inclined to hide. If they find an infestation, they set up a strategy for safe mold removal. You can trust that your IICRC certified mold remediation specialists can remove your mold infestation without posing any additional threat to you or your property.
No matter what your water damage restoration needs are, you can trust 911 Restoration of Phoenix to handle every issue, from water extraction through to mold removal. All you have to do for immediate assistance is call now.
Servicing the cities of Anthem, Ahwatukee, Buckeye, Burnstead, Carefree, El Mirage, Fountain Hills, Glendale, Goodyear, Laveen, Litchfield Park, New River, Paradise Valley, Phoenix, Peoria, Scottsdale, South Mountain, Sun City West, Surprise, Waddell, Youngtown, and surrounding areas.