Water Damage And Mold Removal in Goodyear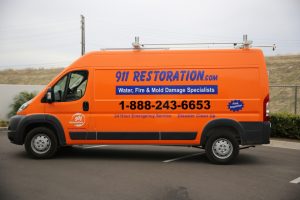 If you need water damage restoration in Goodyear, you need 911 Restoration of Phoenix.
The flood cleanup technicians at 911 Restoration respond to every call with the highest urgency. They are available 24 hours a day, 7 days a week, 365 days a year. When you call, they arrive at your property within 45 minutes, guaranteed. Ours is a uniquely compassionate water damage restoration and mold inspection staff. Each technician treats your emergency as if it were their own, working quickly to minimize damage and deliver peace of mind.
Your dedicated flood cleanup crew is IICRC certified, which means they have been highly trained and extensively tested to deliver expert service with the safest practices. 911 Restoration is locally owned and operated, with the resources and support of a nationwide company. This water mitigation company is licensed, insured, and bonded.
You can depend on these water damage restoration workers for full-service flood cleanup. They cover everything, including water extraction, flood damage repair, and mold remediation. Your peace of mind is top priority. This is why the water damage restoration experts come prepared to solve every last problem associated with water damage…including the cost.
It's true. At 911 Restoration, we understand how overwhelming it can be to face an unexpected expense like water damage restoration. Not to mention, repairs can be complicated. It's hard to know what your insurance will cover. Our water damage restoration staff takes the time to not only help you understand which services you need, but to also clarify what your insurance will cover. They offer a free insurance consultation and even file your claim for you.
At 911 Restoration of Phoenix, it's all about you. For the attention and service you deserve, call today.
Commercial And Home Water Damage Restoration In Goodyear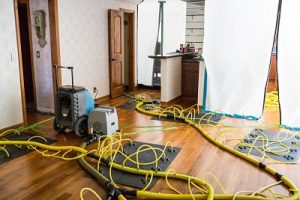 911 Restoration of Phoenix proudly services both residential and commercial properties in need of flood cleanup in Goodyear.
A pipe burst, sewage backup, or ceiling leak can be devastating no matter what type of property you own. Every water damage incident requires urgent attention, and that's what you get with 911 Restoration.
When water damage restoration technicians arrive at your home or business, they snap into action. If you need storm repair, roof repair, or boarding up to stop the invasion of water, they handle it quickly. They bring in professional equipment and fans to remove water or sewage as soon as possible and dry out the area to prevent mold growth. The flood cleanup experts also perform structural testing to make sure your property has not been weakened by water damage. If they find any structures or surfaces in need of repair, they handle that, too, saving you the headache of hiring another contractor. Finally, they conclude water damage restoration with a thorough mold inspection. They are even certified to handle mold removal in Goodyear, if needed.
Every water damage restoration and mold remediation professional on our team works with the Fresh Start attitude. This means they don't just show up at your property, remove water, and leave. Instead, they work diligently to treat this incident like an opportunity to make your property stronger and better than ever with comprehensive restoration.
If you want to put today's water disaster behind you, call 911 Restoration of Phoenix.
Restoration Contractors Certified In Mold Removal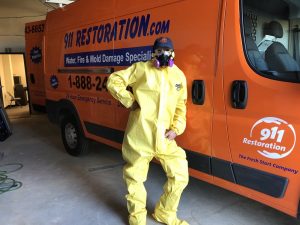 Mold inspection is a crucial element of water damage restoration, because water damage so frequently results in mold contamination. Even in the dry climate of Goodyear, wood, carpet, and concrete all have a tendency to hold onto moisture, giving mold spores plenty of time to develop into a thriving colony.
The water damage restoration staff at 911 Restoration are trained in mold remediation. They offer a complete mold inspection following water damage. This includes professional mold testing to ensure an accurate understanding of your specific infestation. There are many varieties of mold, each one posing a different degree of health risks. When your mold removal experts fully understand the extent and dangers of your mold infestation, they can make a plan for effective and safe mold decontamination.
It is important to call a certified mold remediation specialist rather than attempting to handle mold removal yourself. Home remedies are ineffective, and the more direct contact you have with a mold colony, the greater your risk of inhaling dangerous mycotoxins. A certified mold decontamination professional knows how to get rid of mold in the safest and most effective way.
Water damage can mean costly destruction and personal dangers from sewage contamination to toxic mold. However, a certified water damage restoration company eliminates those risks and damages quickly. And if you choose 911 Restoration of Phoenix, you can expect peace of mind at limited cost to you.
Call now.
Servicing the cities of Anthem, Ahwatukee, Buckeye, Burnstead, Carefree, El Mirage, Fountain Hills, Glendale, Goodyear, Laveen, Litchfield Park, New River, Paradise Valley, Phoenix, Peoria, Scottsdale, South Mountain, Sun City West, Surprise, Waddell, Youngtown, and surrounding areas.