Water Damage and Mold Removal Carefree
Water-related emergencies could happen at any time, which is why our water damage Carefree experts with 911 Restoration of Phoenix are available all hours of the day or night.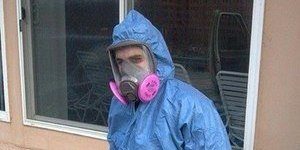 When facing a water leak, our water damage Carefree experts work with IICRC certified technicians to conduct a free visual assessment to locate the main source of the damage.
With a free repair estimate and comprehensive repair plan, you will have all the information you need to confidently work with our licensed, bonded and insured mold removal Carefree experts.
When floodwaters invade your home, the water damage Carefree team will be there for you, around the clock, to begin pumping the water out of the household. Our mold removal Carefree technicians are trained to use the highest grade equipment in order to extract water, dry the area and dehumidify the property.
We never want you to have to wait long for assistance, so our service agents always make sure to dispatch water damage Carefree workers to your home immediately, getting them to your door within 45 minutes. With a fast response time, our mold removal Carefree experts are trained to assist with:
Toilet Overflows

Ruptured Hose Flooding

Pipe Bursts

Sewage Water Overflows

Washing Machine Leakage

Shower Pan Leakage

Home Flooding

Mold and Fungi Infestations

Mildew Growth

Roof and Ceiling Leakage

Water Heater Explosion Floods

Ice Machine Malfunction Leaks
All of our mold removal Carefree repair teams are trained to administer all types of water damage remediation. We are available 24/7/365, so call us today and our water damage Carefree specialists will give you a free home inspection!
Our Experts Understand Efficient Mold Removal
Stagnant water becomes contaminated with bacteria and fungus within 24 hours of its occurrence. It takes mold time, moisture, and darkness to thrive and produce mold spores.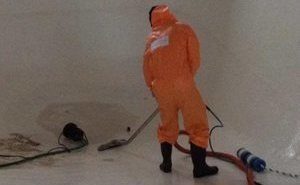 This is why our water damage Carefree experts work closely with our mold removal Carefree pros, to ensure that prior to the mold remediation process there is no lingering moisture.
With the help of thermal imaging, our water damage Carefree experts have the ability to detect hidden moisture in walls, ceilings and even beneath your floors.
Once we detect all affected areas, our geared and equipped pros get straight to work. With protective suits, powerful water extraction machines and advanced technology, our mold removal Carefree expert work thoroughly and meticulously to restore your home even better than its original condition.
Most of the time when water damages a property, the moisture that seeps into the walls, ceiling carpeting, hard wood and furniture can invigorate mold spores and cause them to thrive. It only takes a 24 hour period of spores to develop into an infestation, which is why it is critical that our water damage Carefree agents begin removal services right away.
Our mold removal Carefree teams have many years of experience with mold eradication, and our water damage Carefree crews have the gear needed to get the substance out of the home without contaminating the area or putting your health at risk.
Thee moment you discover a leak in your home or business our water damage Carefree crew will make sure your home is a healthy environment for everyone living under its roof. Our mold removal Carefree pros understand the potential complications and challenges when a water leak is not carefully cleaned. For an effective, clean and long term water damage restoration, call our water damage Carefree experts.
Our Water Damage Staff Walks You Through The Entire Process
From booking your same day service appointment to your very last coat of paint, our experienced project managers are trained to provide you with solutions and peace of mind.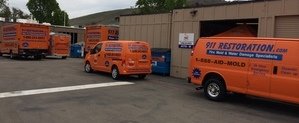 They help you prepare documents and photos for your insurance claim, and even offer to handle your claim for you, so you don't have to worry about chasing down your insurance rep.
Our water damage Carefree experts will even meet with adjusters, negotiate with our affordable prices and make sure you get the most from your coverage.
The home and business owners in the Phoenix area have the right to affordable and efficient home restoration work, and our water damage Carefree unit is here to provide you those services. Our mold removal Carefree pros place our standards for optimal customer service very high, and aim to constantly make you feel safe and secure when we arrive on the damage site.
Making this process as easy as possible for you is our main goal, which means our water damage Carefree techs will do absolutely anything we can to accommodate you. If this means filing your insurance claim on your behalf, then our mold removal Carefree staff are more than happy to take that over for you.
Our mold removal Carefree team knows what information insurance companies need to get you the best coverage possible, so you can rely on our water damage Carefree experts to get you the financial aid you deserve. So, call our water damage Carefree workers today, and you will be on the path to a fresh start in no time.