Water Damage Restoration Phoenix
Popular belief points to Arizona as a dry state, and that is precisely why it is important to have a professional water damage restoration team such as 911 Restoration of Phoenix on your emergency call list.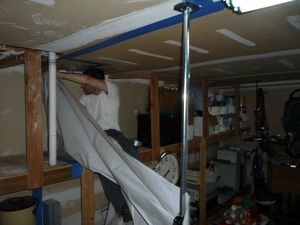 Water damage caused by flooding is actually a common emergency in Phoenix, which averages 40 to 100 flooding events per year.
The water damage Phoenix team knows that the best way to limit the amount of damage that a water invasion can cause is to be at the scene quickly, and this is why they are capable of arriving within 45 minutes to start working on the challenges.
In addition to being at the scene of a water damage event quickly, the professionals with 911 Restoration Phoenix are also available 24/7/365 to take on water damage no matter when or where it appears.
If your home or business is already experiencing the effects of water damage from a pipe burst, water heater loss, or even a flooding event, then don't hesitate to take care of it immediately or it might turn into a mold growth situation.
Contact our water damage Phoenix team with 911 Restoration Phoenix and let the experts eliminate all of your water-based woes today!
Preparing for Water Damage through Education
As restoration experts, we consider it part of our job to inform our customers.
If you or your family are dealing with the aftermath of a flooding emergency, here is a useful guide to understand your damages as well as the restoration process:
A severe thunderstorm or prolonged flash flood can damage essential structures such as your roof, foundation, and sewage line, so take a lot of pictures/record some videos as you will need them for your insurance claims or applications for disaster assistance.
Wall boards soak up water like sponges. If contaminated with floodwater, they can become serious health hazard and should be removed to at least the flood level.
Plaster and paneling can be salvaged, but air must be circulated in the wall cavities to dry out the studs and sills.
Insulation requires different treatments depending on the type of material. Styrofoam might only need to be hosed off, but fiberglass should be thrown out if muddy.
Insulation can be saved if dried quickly, so call a restoration professional as soon as you notice the first sign of water damage.
Clean and dry carpets or area rugs as quickly as possible. If sewage-contaminated floodwater covered your carpeting, discard it for health safety reasons. Also discard if the carpet was under water for 24 hours or more.
Wooden floors should be dried gradually as sudden drying could cause cracking or splitting. Vinyl flooring and floor tile need to be removed to allow drying of subfloor.
This is a great list of some of the more common forms of water damage and what can be done about it, but there are plenty of situations that aren't mentioned here, and our water damage Phoenix team can handle them all.
Contact our water damage Phoenix experts with 911 Restoration and let the professionals bring your home or business back to normal in no time!
Specifics of Water Damage Restoration
Looks can be deceiving in drying out your floor boards. Most homeowners are unaware of moisture pockets trapped beneath dry floorboards, and thus unaware of mold growing when they try and clean up a water damage spill themselves.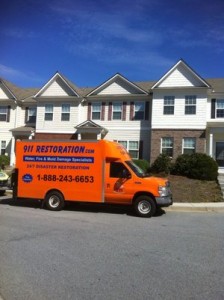 Our crew at 911 Restoration of Phoenix uses special thermal imaging technology to identify wet spots deep below the surface, invisible to the naked eye, and this is why homes fare better when under our care.
But if you are going to attempt to do water damage repairs, or maintenance, here is a helpful guide:
Look for corroded, loose or displaced flashing on sloping roof valleys and at junctions of dormers and roof.
Wet spots near a chimney or outside wall may mean the leak is caused by defective flashing, narrow flashing or loose mortar joints.
Check for choked downspouts as well as any holes in the roofing. Once you find a hole, mark it by sticking a straw, nail, or wire through the hole.
The dry weather of Arizona makes homes particularly vulnerable to flooding disasters when the rain does come. During the monsoon season, flash floods can develop in a matter of minutes, and this is why it is crucial that your roof be in perfect condition to protect from water damage!
Contact a professional as soon as possible to deal with any water damage, especially if you notice the water is muddy in color, or foul-smelling, as this may be a sign of a sewage backup.
That's why we have an emergency service line in operation day and night at 911 Restoration of Phoenix. This way you can reach us whenever you need professional restoration help.
If your home or business is already amid a water damage crisis from flooding or any other means, then contact our water damage restoration Phoenix crew with 911 Restoration Phoenix and let the experts help with everything today!