Water Damage Tempe
When it comes to alleviating the effects of a ceiling leak, water heater loss, or even a toilet overflow, the water damage Tempe team with 911 Restoration Phoenix is the most prepared services provider in the area for the task.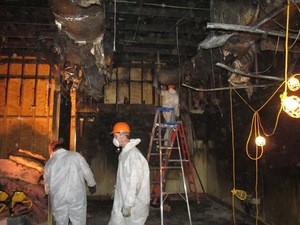 The water removal Tempe crew knows that the best way to mitigate the loss that occurs in these situation is to get on top of the project quickly.
This is one of the various reasons why they make sure to arrive quickly within 45 minutes so that they can get straight to the heart of the challenge and begin eliminating excess water, and the damages that it can cause.
In addition to getting to the scene of the event quickly, the water elimination Tempe crew is also truly available 24/7/365 to start working on a project as soon as it develops which can save time and money in the long run for homeowners and businesses alike.
Not only does the water removal Tempe team make sure to get to the site of the event as soon as possible, but they are also completely mobilized with the best drying technology and powerful extraction tools too.
If your lovely house or office is already undergoing an invasion of gray water from a ceiling leak, toilet overflow, or any other means of flooding, then contact our water damage Tempe crew with 911 Restoration Phoenix for help today!
Water Damage Avoidance & Prevention Advice
When it comes to taking charge and eliminating the effects of a water furnace, ceiling soaking, or any other form of loss, there is no one more capable than the water evacuation Tempe crew, but they are also experts when it comes to preventing such instances in the first place too.
Here are some critical things to remember and know about water damage and restorations:
Never forget to clean out your gutters before the rainy season so you don't run the risk of an overflow which can swamp your attic and upper floors with ceiling leaks and water damage.
Check on the hoses, fittings, and connectors that link up your water-based appliances to the main line so that you can spot any wear and tear that may lead to a rupture down the road.
Trim the trees around your property to ensure that you don't have any dead limbs that may come down and cave in your roof during a storm.
Let a restoration expert come and inspect your property for any trouble spots that may be the source of future water damage obstructions that can be avoided through maintenance today.
Be sure to direct the discharge from your downspouts away from your foundation to prevent liquefaction from taking place.
This is truly a strong list containing many of the top reasons for water damage invasion, but there are as host of other ways that this menace can find a way into your property.
If anyone has questions about things that aren't listed here, they should call our water damage Tempe team with 911 Restoration Phoenix promptly today!
Extracting Water Damage Materials Prevents Mold Growth
When it comes to fast effective water damage elimination, the key is getting to the source before it can turn into a mold growth scenario.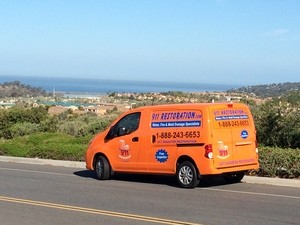 If mold takes hold, it usually does so because fast, effective cleaning and restoration efforts weren't immediately addressed by professionals.

This is why our water damage Tempe crew advise utilizing their trusted skills to get your property back in shape in no time.

Our water removal Tempe technicians are completely dedicated to making these situations as easy for our clients to get through as possible, and in that endeavor they will even fill out all of the insurance paperwork for people so that they don't have too much to deal with at once.

When a disaster related to water damage invasion does occur, our team members make sure to always put the customer first through every situation.

To do this our water elimination Tempe team will even go the distance to walk people through the entirety of the restoration process to give people a complete understanding of what their work entails and to return them their peace of mind too.

If your house or storefront has recently experienced a liquid intrusion of any kind, then contact our water damage Tempe crew with 911 Restoration Phoenix today!

njj