Water Damage Casa Grande
In Casa Grande, your property is exposed to different weather conditions throughout the year. Rain, sun, and wind can all affect your property overtime and eventually, damage can start to appear. One of the structural issues that can occur is roof damage that can pave the way for leaks to occur. When roof leaks or any other problem like pipe bursts or sewage backups occur, count on the water damage Casa Grande team from 911 Restoration Phoenix to take care of it.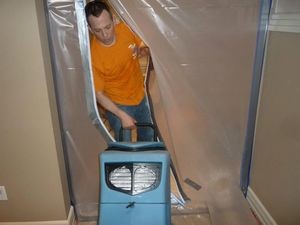 Our specialists are trained and equipped to offer you top quality water damage repair and restoration to address all urgent water emergencies right away. Whenever you call, you can expect our team to be there within 45 minutes to offer you quick relief and make your home look good as new in no time.
Our water damage Casa Grande specialists are IICRC certified to handle all water damage situations using advanced equipment. Roof leaks, pipe bursts, floods, toilet overflows, or storm damage are among the issues we can patch up for you.
We have nearly four decades worth of experience in providing homeowners with water damage relief. Our experience, together with our training and equipment will allow us to offer you only the highest quality of water damage repair and restoration. We work with only your satisfaction in mind. You can count our water damage Casa Grande team to give you a fresh start right away!
Dealing With Water Emergencies For You
Heavy rains aren't the only cause of flooding within your home. A pipe burst can allow water to spurt out in large quantities that can flood the basement and crawlspaces. A pipe burst can even occur out of nowhere, but our water damage Casa Grande specialists will always be available 24/7 for your convenience. Rest assured, that even if the problem occurs in the dead of night, we will be there to patch it up on the day you need it.
To be able to extract water and remove moisture from your home thoroughly, we will be using our advanced drying equipment. By getting rid of water and moisture, we can help your home avoid further problems like mold growth. Among the water damage emergencies that we can assist you with include:
Pipe bursts and plumbing leaks
Roof damage and ceiling leaks
Storm damage and flooding
Sewage backups
Water-based appliance hose ruptures
Mold growth
Bathtub overflows and running sinks
Fire sprinkler malfunctions
Getting A Much Needed Fresh Start Through Water Damage Restoration
To solve all of those concerns, you can count on our water damage Casa Grande team to provide comprehensive solutions that will solve any complications caused by water damage. Once our specialists arrive, you can expect a free inspection and estimate that will help us determine the best course of action and to offer you our services at the most affordable price.

We know how frustrating it can be deal with water damage on your own. We work with your convenience in mind so we will even help you file your claim with your insurance company. Through our water damage repair and restoration you can expect your home to get a fresh start! Give us a call today!

njj