Mold Removal in Waddell
Arizona experiences a monsoon season where the weather shifts to create thunder, torrential rain, and high winds. These thunderstorms occur during a time when the temperature is high, creating an environment that is conducive to creating mold.  If you experience home water leaks during this season, then you may find yourself dealing with a mold infestation. Fortunately, the technicians at 911 Restoration of Phoenix are prepared to provide mold remediation in Waddell all year round. Property owners will receive a free visual mold inspection, during which technicians will check for signs of mold and water damage to formulate an estimate.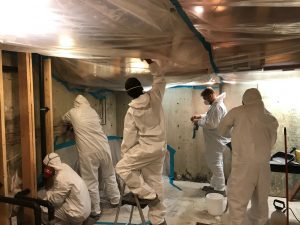 The best way to combat mold is to prevent water damage from occurring inside your property. To help stop water invasions, technicians are available 24/7/365 to respond to water emergencies.
Even with immediate water damage repairs, mold can still form. It only takes 24 hours for mold spores to start developing into an infestation.
Customers can have complete confidence in our technicians. They are IICRC certified to administer mold remediation services in both residential and commercial properties.
Not only will do the repair techs guarantee your property will pass the mold clearance test, but they will conduct professional mold sampling and testing services. By determining the type of mold growing in your home or business, we can take the most appropriate actions needed to keep you and your family safe.
The technicians will inspect your property from top to bottom for signs of water damage and mold. So, call 911 Restoration of Phoenix when you need expert water and mold cleanup in Waddell today!
Unmitigated Water Damage Can Accelerate Mold Growth
Property owners in Waddell need to be aware that if their property has recently been affected by a flood or a leak, then it is susceptible to experiencing a mold infestation in that affected area.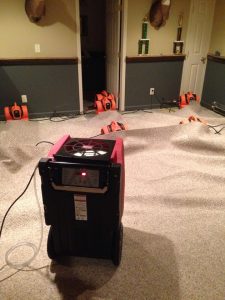 Getting that water damage repaired quickly by professionals is critical to preventing mold growth, which is why 911 Restoration of Phoenix offers same-day services for all water-related emergencies.
When you hire 911 Restoration of Phoenix, you can be sure that the technicians will arrive with all the equipment necessary to conduct both water damage repairs and mold cleanup services.
Since our restoration company is locally owned and operated, the technicians we employ are all experts at mitigating the specific mold and water issues that affect Waddell.
Along with implementing water damage restoration, the repair techs will conduct drying and dehumidifying procedures that will extract as much moisture out of the environment as possible.
When the technicians administer mold remediation, they make sure to be as thorough as possible. By creating a dry indoor climate, the repair techs will be able to help prevent future instances of mold in the future.
We implement a mix of water and mold removal services that allow us to address every issue that may be contributing to the mold problem affecting your home or business.
It is crucial to remember that water damage leads to mold. As soon as you notice signs of leak or flood damage in your property, call 911 Restoration of Phoenix right away. Our professionals will provide you with the mold cleanup you need to get the peace of mind you deserve!
911 Restoration Is Your Trusted Source For Expert Mold Remediation
Understandably, it can be overwhelming to suddenly be facing a mold infestation in your family home or place of business. However, as soon as you call 911 Restoration of Phoenix, you can breathe a sigh of relief knowing that the most capable technicians are at your service.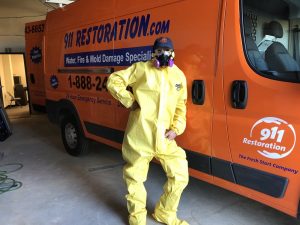 The technicians that 911 Restoration employs have years of experience providing Waddell with quality water damage and mold cleanup services.

We understand the Arizona climate and how it affects mold development in homes and businesses. This local knowledge allows us to complete successful mold remediation jobs time and time again consistently.

Along with obtaining the skill set and knowledge needed to restore your property from a mold infestation, the technicians will also source professional mold samples from the various job sites.

By sending these mold samples to third-party laboratories, the repair techs can determine the particular mold species growing in your property. This information allows us to take the steps needed to keep you safe throughout the mold removal process.

The staff is available to answer any questions you may have about water damage, mold removal, restoration costs, and anything else you may need assistance with. So, call 911 Restoration the moment you discover mold in your property and our staff will get you on the path to a Fresh Start today!

Proudly servicing the cities of Anthem, Ahwatukee, Buckeye, Burnstead, Carefree, El Mirage, Fountain Hills, Glendale, Goodyear, Laveen, Litchfield Park, New River, Paradise Valley, Phoenix, Peoria, Scottsdale, South Mountain, Sun City West, Surprise, Sunrise, Waddell, Youngtown, and the surrounding areas.

njj