Saving Money and Lives With More Efficient Heating Appliances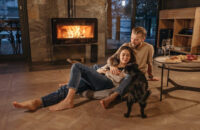 There are certain towns where the temperatures can go down many degrees in the winter in America. It becomes so cold that the weather is not survivable. For this very reason, most Americans use fire or heating appliances to feel comfortable inside. Home heating appliances are many in variety. There are simple heaters, radiators, heating panels installed on floors, etc. 
If you live in some of the colder cities, you're likely to have some heating appliances. However, heating requires a lot of energy. So, if you have some system on at all times, it's likely to uptick your electricity bill. 
According to the US Department of Energy, Heating makes up for 30% of the entire electricity bill of the year. You can apply different methods to cut costs, and one of the most prominent ways is by using more efficient heating appliances. 
There are not many ways to know if an appliance is efficient or not. However, we know that if the heating appliance is efficient, we'll be saving more money on electricity bills. In the article below, we'll talk about better heating appliances and how to save money using these.
What Causes a Heating Furnace to be Efficient? 
The question is rather open-ended since it matters what we mean by efficiency. For now, we can talk about efficiency in terms of how well it can do its job. In the case of heating appliances, this means how long it takes to heat the surroundings. The quicker it responds, the more efficient it is. 
You can also tell that a Heating System will be warm quickly by referring to the device or system's yearly fuel utilization via an efficiency rating. The matter can also be summarized in an acronym of AFUE. The measurement tells you the amount of energy that will be okay for you to use and how much of it will be wasted. You can decide which heating system will be best for you in this sense. 
If a system has an efficiency rating of 90%, it likely has a very good efficiency rating. This means that they are converting most of their energy into heat energy for the system to use. The more efficient the system, the less effort it will take. 
If you're looking for the systems with the least efficiency, nothing before 1992 had the same efficiency standards. 
How Can You Pick the Right Heating Systems? 
The right heating system and appliances aren't just about how efficient they are. It's also about finding the right kind of power source. There are many heating systems, and different systems use different power sources. 
You may have a heating system that's the perfect efficiency for you. However, if its power source is different, that will cause problems too. You want to ensure that the right heating system has the right power source. For example, if you have natural gas as the power source, the correct heating systems or appliances will rely on them. 
Furthermore, you also want the heating system to be as efficient as possible. 
Types of Heating Appliances and Systems
Furnace
In general, furnaces are one of the systems with great efficiency. If you have natural gas incoming, these furnaces can heat the rooms very easily. 
In general, furnaces are the most efficient heating systems, especially with natural gas. They work by heating air with a heat exchanger component and pushing it into the home through a duct system, using a fan (often referred to as a blower). Along with the fact that they have high-efficiency ratings, one of the biggest advantages of furnaces is relative affordability.
You can expect to pay a sum that's between $2,000 and $7,000 for a new furnace.
Heat Pump
A heat pump is a device that can act as an air conditioning and heating unit altogether. It takes the air from the inside of your home during summers, adds refrigerant to it, and then pumps it back inside for cooling. Instead of cooling the air in the winters, it uses the heating element to warm up the air and provide you with heating. It's extremely efficient as you don't have to make many changes to the machinery.
Boiler
A boiler system heats water in a tank and uses that water to ensure your house has heating. The boiler boils up water which it then passes to a network of pipes placed all over your home. The pipes and radiators carry boiling water which can heat the insides of your home during winter to keep you warm. The radiators then distribute heat around various rooms and spaces.
Final Thoughts 
The wrong heating system or appliance can cost you more money in many ways. However, there may also be times when the wrong heating system can cost your life. It's imperative to keep your eyes open for the best way forward. 
Let 911 Restoration of Phoenix Help 
If you are affected by fire damage and want disaster restoration services, call 911 Restoration of Phoenix. Our experts will arrive within 45 minutes of your call. Our professionals are licensed, insured, bonded, and certified by IICRC. They will deal with the fire and heating damage and work with your insurance company, so you get the coverage you need. 
For more information on heating appliances, please visit us at www.911restorationphoenix.com or call us at (480) 524-1678