Don't Clean Your Sewers Yourself – Health Risks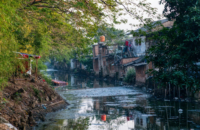 A sewer spill mostly happens when a blockage occurs from your property wastewater line to the city's sewer. This further causes the sewage to back up into the home. However, other underlying causes for sewer backup and spills can be the following:
Sewage System Overload
You're likely to notice a sewer back up in the basement or flooding in such a situation. This is largely from combined pipelines which means the raw sewage could be flowing into the same pipes. Hence, the overloaded sewer system puts the entire home at risk, resulting in sewage backup.
Aging of the Sewage System
The aging sewage system is considered a ticking time bomb. It can cause disruption and a menace when least expected.
Sewage Lines Compromised
Sometimes sewage lines can also get compromised when tree roots force through the sewer line cracks because of the moisture, oxygen, and nutrients. This can further cause damage to the lines and result in blockages.
No matter what the cause for sewage backup maybe, if you are facing an unpleasant situation, it is best to call us—911 Restoration of Phoenix. We specialize in sewage backup cleanup. Always seek professional assistance. Don't clean your sewers yourself. This is because sewage backup is not a do-it-yourself task. You should never attempt it because you can put your life and the lives of your loved ones in danger. That's right, a sewage leak regardless of its scope, cause, or size is contaminated with bacteria.
One of the most dangerous bacteria you are likely to contact due to a sewage backup is E. coli. It is also known as Escherichia coli. This bacteria is usually found in the digressive tracts of humans and is harmless when it is inside. However, it can be extremely harmful when it comes outside the intestines. According to the research by CDC, Escherichia commonly contaminates the sewage water. If you come into contact with this bacteria, it can cause severe diarrhea, dehydration, vomiting, and cramping.
You can also be exposed to the hepatitis A virus when it comes to sewage backup cleanup. This is an infection that is not just highly contagious but can affect your liver directly. The symptoms of hepatitis A are yellowish skin, inflamed liver, and jaundice. 
Therefore sewage contamination is hazardous, and you should never deal with it alone by yourself. It is best to contact an experienced home restoration company expert in sewage backup cleanup services. 
Sewage Also Leads to Airborne Contamination
Reach out to us as soon as you detect sewage problems in your property. Remember that every second counts. This is because sewage can also result in airborne contamination. Not only is it dangerous to come in contact with raw sewage but equally dangerous when it contaminates the air around you. Sewer backup releases airborne contaminants along with the physical contaminants. Hence, inhaling vapors released by raw sewage can result in gastroenteritis. This health condition is usually associated with cramping, fever and can even result in death if it is not treated promptly. 
Another airborne disease caused by a sewage backup is asthma. As sewage releases toxin, the risk of breathing toxins becomes extremely high. Once inhaled, the toxins can attack the upper respiratory system, thereby causing asthma symptoms and shortness of breath. Here it is important to note that toxins are often released when unprofessional individuals are dealing with the condition with no proper equipment or safety measures. Therefore, it is crucial to hire a well-equipped specialist and understands the cleanup procedure. This is why it is best to reach out for help. 
Our Sewage Cleanup Process 
911 Restoration of Phoenix is licensed, bonded, and insured. When you call us for sewage backup cleanup services, we arrive at your premises in less than 45 minutes because we know the job is crucial and time-sensitive. Our goal is to provide you with immediate relief and do whatever we can to help you take a fresh start. 
Our team of IICRC- certified professionals come well-equipped and geared to deal with the situation professionally and the right way. Our experts provide you with a free visual inspection to address the root cause of the problem and the extent of the damage. Next, we create a custom action plan to handle the problem in the best possible way and restore your home to its pre-damaged condition in the fastest possible time. 
Our sewer cleanup process commonly includes the following steps:
Sewer water removal from your property 

Deep cleaning to ensure no area is dirty or contaminated

Next, we dry and sanitize your space 

Handle necessary repairs and restoration work 
Our team also carries out mold inspections. This is because where there is water, there is a high chance of mold growth. That's exactly why we inspect for mold. If we detect growth, we send the sample for third-party lab testing to determine the type and the best solution to eliminate infestation for good. Our team also assists you with insurance claim filing, inventory and loss itemization, and direct billing. Give us a chance to assist you. Contact us today for help. Leave the dirty work to us.
.