Mold Remediation in the Garage: 5 Tips to Follow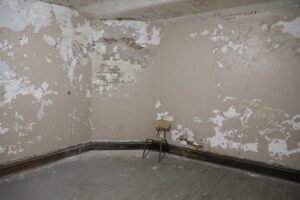 There are over 300,000 molds in the world. Some molds are helpful, while others are harmful. They thrive in humid, dark, and damp environments. Wherever there is moisture, there's a chance of mold growth. They take 24 to 48 hours to grow on damp surfaces. They are often found in the garage because there is little to no sunlight in there.
Homes without slopes are at a higher risk of mold growth as they encourage rainwater to creep into the garage.
Mold in the garage is not uncommon. The good news is that they can be removed and prevented from developing in the future. To understand how you can fight against mold in your garage, you first need to know what causes mold growth in garages.
Let's dig in!
Causes of Mold Growth in Garage
Driving a car in the garage in rainy and snowy weather and parking it in the garage
Bad door seals that allow rainwater to move inside the house
Leaking plumbing or burst pipes
Items like cardboard and paper stored in the garage
Dark and humid environment
Poor ventilation
Tips to Follow While Performing Mold Remediation in the Garage
Get Your Garage Inspected by Home Restoration Experts
The first step of garage mold removal
is to check for leaks. Getting an inspection done by mold remediation experts is necessary to know what level of a mold problem are you dealing with. A mold inspection typically involves the mold inspector informing the property owner about the areas they have seen the mold. They also let the owners know about the areas prone to mold growth.
If you don't want to get an inspection done, make sure you find the water damage that resulted in mold growth. Let's say you have found mold on an inner wall that abuts the interior of your home. In this particular scenario, water leaks that resulted in mold growth will probably be caused by leaky sinks, dishwashers, heaters, and washing machines.
Make Sure You Get the Right Kind of Safety Equipment
We are exposed to mold spores on a daily basis. They are usually harmless. However, constant mold exposure is what causes health issues. From allergies to asthma to skin infections, there's so much that mold exposure can cause. In rare cases, exposure to mold results in permanent scarring of the lung tissue, which affects its ability to transfer oxygen into the bloodstream.
If you plan to perform mold remediation yourself, keep in mind that mold remediation takes anywhere from 1 to 5 days. Before you step into the infested area, make sure you wear Tyvek painter suits or coveralls, a respiratory face mask, disposable gloves, shoe coverings, and eye goggles.
Seal off the Door to Your House From the Garage to Prevent Further Spread
A mold inspection can tell you if your home is safe from mold. If that's the case, make sure you seal off the door to your house from the garage with painter's masking tape to prevent the spread of mold. It's better that you don't use that door until you have completed the cleaning process.
Make Sure You Scrub the Mold and Spores Thoroughly
Use bleach, distilled water, and vinegar to scrub the mold and spores thoroughly. Don't forget to take necessary precautions before starting to clean the infested areas. Make sure you call home restoration experts if the infested area is more than 3 by 3 feet.
If You Can't Handle it on Your Own, Call Mold Remediation Experts
As we discussed earlier, mold exposure can lead to an array of health issues. If you have never removed mold on your own, there's a chance that you might not be able to do it on your own. Mold remediation takes 1 to 5 days, depending on the infested area.
Mold remediation specialists are equipped with advanced equipment to ensure that the process gets done quickly and effectively.
How to Prevent Mold in Garage
Check gutters, roof, floors, and pipes for leaks
Immediately remove standing water with a squeegee
Weatherproof your garage by sealing your garage door
Install vents and fans in the garage to decrease humidity as molds thrive in humidity levels of 55% and more
Install a moisture meter to detect water leaks
While constructing or remodeling the garage, make sure you only use mildew-resistant materials
Use mildew-resistant paint to ensure to prevent mold growth on the walls
Along with a floor slope to move the water away from the garage, make sure you have a proper drainage system to avoid flooding and water damage in your garage
Install a humidifier to lower the moisture levels in the garage
Open your garage door for a few hours in the daytime as sunlight and fresh air is "anti-molds"
To prevent moisture from spreading over your belongings, make sure you keep your belongings on the shelves and not on the floor
Declutter your garage as items like cardboard boxes and papers can become a food source for mold
Keep an eye on the target areas where rainwater can easily creep into your garage
Seal the windows properly to ensure that the water doesn't get inside the house
Install a roller garage door as they provide comprehensive protection against rain, wind, and snow, ensuring that rainwater and moisture are given no opportunity to creep into the garage
Looking for Mold Remediation Specialists in Phoenix?
Want to get back to living your normal life? Call 911 Restoration of Phoenix to get mold remediation done today. They offer a free visual mold inspection for property owners and are available 24/7/365 to help you completely get rid of mold.