Insurance Adjusters & Sanitization Services – Will My Carrier Cover It?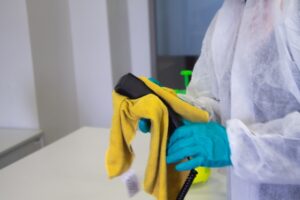 COVID-19 has thrown the restoration, cleaning, disinfecting, and insurance industries into a loop. A significant number of restoring companies are generally not sufficiently covered for biohazards, and the COVID-19 just exacerbated the situation.
Initially, none of the companies had sanitization insurance, and coronavirus has made it harder for them to get disinfection coverage. As many restoring firms laid off whole staffs owing to government-mandated shutdowns, other companies advertised that they could evaporate coronavirus. In contrast, insurance firms increased the pace of stating biohazard exemptions everywhere they could.
Managing the dangers connected with the deadly coronavirus requires additional insurance, which is specific to this condition. There is no insurance coverage in existence today that was built with a worldwide pandemic threat in consideration. Because the possibility of coronavirus on human-occupied workplaces, residential and market areas still cannot be eliminated, you must have insurance that covers biohazard cleanup, providing insurance for virus-caused losses, viral cleanup, and disinfection services.
Insurance firms believe there is a significant difference between treating the bacteria, germs, mold and dealing with a virus that has infected and killed over 120,000 individuals in the United States alone in just a few months.
Here are a few ways you get your sanitization services insured and save yourself from a denied claim during these hard times:
Inform Your Insurance Company Beforehand
When the risk factors connected with an insurance firm substantially shift, the insurance carrier may dismiss a loss associated with the current risk or terminate your policy if you do not notify them of your plan to provide specialized sanitization and cleaning services for virus contamination.
Neither position is favorable for you; however, it is preferable to inform the insurance provider that you want to undertake virus disinfection and sanitization services and then wait to see how they respond than to discover afterward that you have lost your insurance coverage.
It is a bad idea to think that virus cleaning services and sanitization insurance are a continuation of the biohazard cleanup insurance that restorers have been performing all along and that you are good to go with this coverage.  Unless such communication comes in writing and is labeled "disinfection coverage" or "sanitization insurance" from the insurance firm's manager, we recommend you enquire about it before taking any action you may later regret. All of the insurance firms had indicated that the hazards of COVID-19 were not foreseen when they offered the biohazard cleaning coverage. They claimed that COVID-19 has significantly increased the hazards for restorers.
Affirmative Grant of Coverage
If you are currently in the process of an insurance policy, a few coverage providers offer insurance extensions for virus cleanup services. These insurance advancements often require approval of the plan to reflect the recognized higher risk of virus decontamination, sanitization, cleanup, and other relative services.
An Affirmative Grant of Coverage is an insurance extension intended for viral disinfection and sanitization work. It is a very excellent item to have in your insurance plan. When you have an affirmative coverage grant, it will be very difficult for the insurance carrier to refuse a claim related to viral decontamination and sanitization because your company significantly modified the condition to be covered.
How to Get Sanitization Insurance?
General Liability insurance alone is not enough to provide you coverage for virus disinfection and sanitization services. It cannot cover the risks connected with virus disinfection services on its own. To be covered, you must get a Contractors Pollution Liability insurance that has been amended to include an affirmative coverage grant for the disinfection, sanitization, and other related cleaning services.
These insurance are now accessible to only qualifying restoring businesses. Whether your company is eligible depends on the criteria vary by the insurance provider. Still, predictable characteristics that may state a restoring firm as qualified for insurance are emerging, for example, past successful attempts of biohazard cleanup, certifications from RIA or IICRC, up-to-date training, advanced equipment, etc.
While renewing your insurance, make sure to include a description of the virus disinfecting and sanitizing services you provide in your initial proposal. Ensure that your updated insurance plan specifically refers to biohazard cleaning operations and that coronavirus is covered under the pollutants section of the Contractors Pollution Liability insurance policy.
In general, new biohazard cleanup companies encounter an extremely competitive insurance industry. Only companies with a long history of working with biohazards can acquire disinfection coverage or sanitization insurance with an affirmative grant of coverage for the damages related to the virus.
Conclusion
Managing and minimizing the risks and damages of coronavirus has become the new normal for everyone. The new normal is to manage the dangers of coronavirus. The most dependable coverage design is a mix of Contractors Pollution Liability, General Liability, and Professional Liability insurance plan which has been approved to include the whole range of biohazards, along with viruses. Other insurance designs may be acceptable, but there is a good chance it will not be easy to get it verified.
911 Restoration of Phoenix
At 911 Restoration of Phoenix, you will not have to worry about sanitization insurance as we have got it all covered! Call us now to get your place professionally sanitized without worrying about any sort of insurance claims.